General de Division
Posts: 1,969
FIGHTING THROUGH: ADVANCE UPON BUDAPEST 1944.
PanzerGrenadier Deluxe is the 3rd edition of Battlegroup PanzerGrenadier rules but is a very different game to its predecessor and hopefully a little distinct from other existing rules. The emphasis is on command and control and this requires players to plan ahead, use period tactics such as combined arms to overcome the enemy and genuinely think about the command challenges before them. The following scenario plays through a typical game, with explanations along the way, hopefully shedding some light on how the rules work and also why they work that particular way.
ADVANCE UPON BUDAPEST, 1944
SITUATION: As the Soviet 2nd Guards Mechanised Corps advances to capture Budapest, the Axis forces put up desperate resistance in order to prevent the loss of this capital city.
MISSION.
Russian: Capture and clear two of the suburbs area of Budapest by the end of the game or break the German Battlegroup.
Russian 25% Breakpoint = 12 sections. 50% Breakpoint = 23 sections.
German: prevent the Russian victory conditions or break the Russian Battlegroup.
German 25% Breakpoint = 9 sections. 50% Breakpoint = 17 sections.
The game ends after 14 turns.
FORCES.
BATTLEGROUP: LIASHENKO
SECTION:

NUMBER:

GRADE:

Battlegroup HQ

1 (1)

Regular

FOO

1 (1)

Regular

23rd Guards Company HQ

2 (2)

Regular

23rd Guards Armour Company HQ 1 x BA64 (LMG)

1 (1)

Regular

Scout Platoon of:

1 x command section, 2 x rifle sections, 1 x LMG section

1 (4)

Veteran

23rd Guards Rifle Company 1: 3 x Platoons each of:

1 x command section, 2 x rifle sections, 1 x LMG section

3 (12)

Regular

23rd Guards Rifle Company 2: 3 x Platoons each of:

1 x command section, 3 x rifle sections

3 (12)

Regular

23rd Guards Support Platoon: 1 x Maxim MMG, 1 x 50mm Mortar, 1 x command section.

1 (3)

Regular

23rd Guards T/34/85 Platoon of 1 x T34/85 command section,  2 x T34/85 sections

1 (3)

Regular

23rd Guards T/34 Platoon of 1 x T34 76mm command section, 2 x T34 76mm sections

1 (3)

Regular

Reinforcements: Arrive Turn 6/7. 30th Guards:

IS2 Platoon of 1 x IS2 command section, 1 x IS2 section.

1 (2)

Regular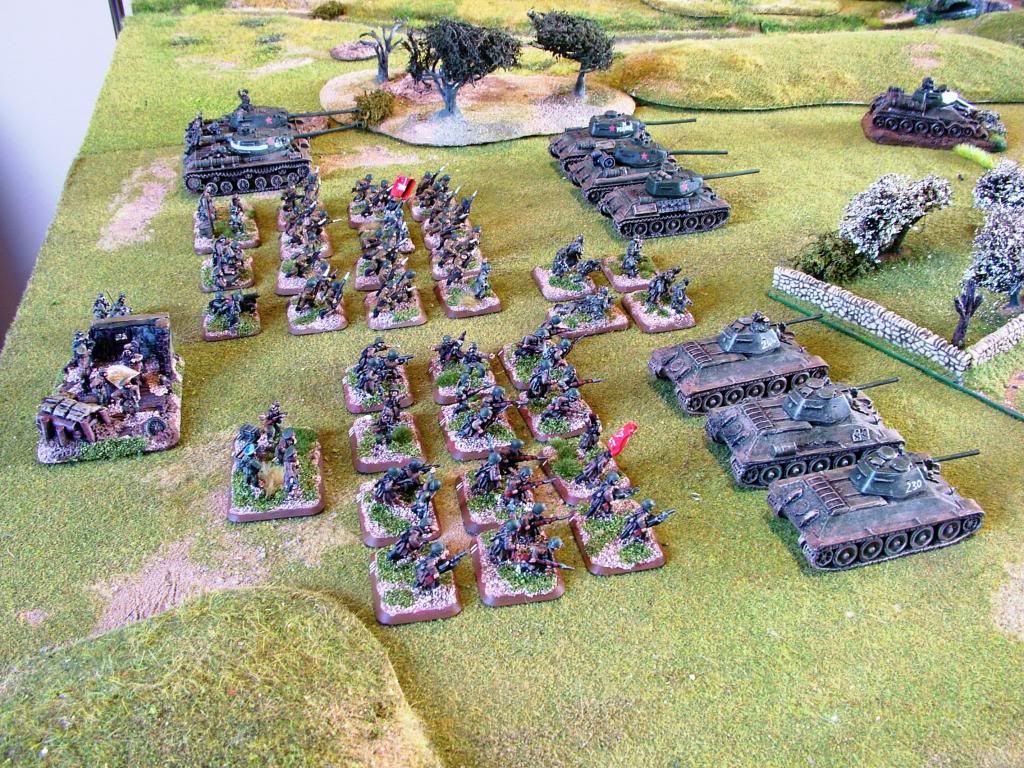 BATTLEGROUP GEHRIG
SECTION:

NUMBER:

GRADE:

Battlegroup HQ

1 (1)

Regular

66th Pz. Grenadier Company HQ

2 (2)

Regular 

66th Pz. Grenadier Rifle Company:  3 x Platoons each of:

1 x command section, 2 x rifle sections, 1 x LMG section

3 (12)

Regular

66th Pz. Grenadier Rifle Company: 2 x Platoons each of:

1 x command section, 2 x assault rifle sections, 1 x LMG section

2 (8)

Regular

66th Pz. Grenadier Support Platoon:

1 x command section, 1 x MMG, 2 x A/T section (panzerschreck)

1 (5)

Regular

66th Pz. Heavy Gun Platoon: 1 x 15cm SIG Pz38t

1 (1)

Regular

Recon detachment of 1 x SdKfz 251/9, (Short 75mm)

1

Regular

Panzer Platoon of 1 x Panther command section, 1 x Panther section.

1 (2)

Veteran

Assault Gun section: 1 x Hetzer 75mm

1

Regular
Each German infantry platoon has 1 x integral PzFaust team.
DEPLOYMENT.
The German player may deploy anywhere on the board up to 8" [12"] of the Russian table edge.
The Russian players deploys anywhere within 6" [8"] of his table edge.
Both sides may deploy off table reserves if they wish.
Reinforcements: The Russian 30th Guards IS2 Platoon arrives on Turn 6 on the either western table edge on the main road or may delay a further turn (so arrive Turn 7) and enter adjacent to the farm in the far right hand corner of Russian table edge.
Availability of Artillery & Air Missions.
The Russian player has 4 x off table direct fire support missions.
The Germans have no artillery support, other than one general fire support mission.
Neither side has any air support.
TERRAIN
The terrain should be generally flat, with a central orchard area. The terrain beyond the river should have a good few areas of rough and/or woods.
The village should consist of two small BUA sections.
In the Russian right hand table edge corner is a small farm, with field system along the right hand table edge.
The Budapest suburbs should consist of either three large BUA or four small BUA sections.
Table size need be no more than 5 foot long x 5 foot deep for 15mm, 6 foot long x 5 foot deep for 20mm (6' x 4' minimum for 20mm).
PLANNING
German deployment: The German player considers two defensive options; either a forward defensive line designed to disrupt the Russian attack, with mobile reserves held back to tackle any isolated breakthroughs or hold a deeper position opting for a strong combined armour and infantry defensive line. Given that the German player has no infantry transports thus making quick reinforcement difficult, he decides upon the less risky deep defensive line with his armour assets interspersed amongst his infantry platoons.
Given the ultimate Russian objective is the Budapest suburbs on the right hand flank, the German player opts to only lightly defend his left flank, by committing just one infantry platoon over the river. All his remaining forces are husbanded along a defensive line from the bridge and village area through to the suburbs. As he has deployed all his forces well back from the Russian deployment area he also gains the distinct advantage that all the German forces are classed as Hidden, not deployed on the tabletop but marked on his battle map.
Reserves: The German player decided to keep his reserves to a minimum of just one infantry platoon, hopefully he can deploy these quickly to areas that need reinforcing. (He could opt for no reserves and deploy them on the table, but choose to have at least something up his sleeve.)
The Russians: The Russian player plans on two contingencies, first that the objective itself will be strongly defended and that the left flank over the river, due to the terrain, will have little armour. Therefore decides to avoid an initial direct assault upon the suburbs but to concentrate his forces more to the left attempting to roll up that flank and then assault the Budapest suburbs from the front and flank simultaneously. Therefore he opts to lead with his armour and follow up with 2 Company infantry in the central sector, while devoting his 1 Company over on the left to advance along the river line while just two platoons, including veteran his scout platoon start actually over the river in recognition that it will probably be lightly defended thus may be able to turn that flank quickly. (We shall see!)
Reserves: The Russian already has the IS2 platoon arriving on Turn 6 or 7, which he can deploy either on the right or left flank depending on how the battle is progressing. In addition he keeps one platoon from 2 Company in reserve off table.
COMMAND & CONTROL.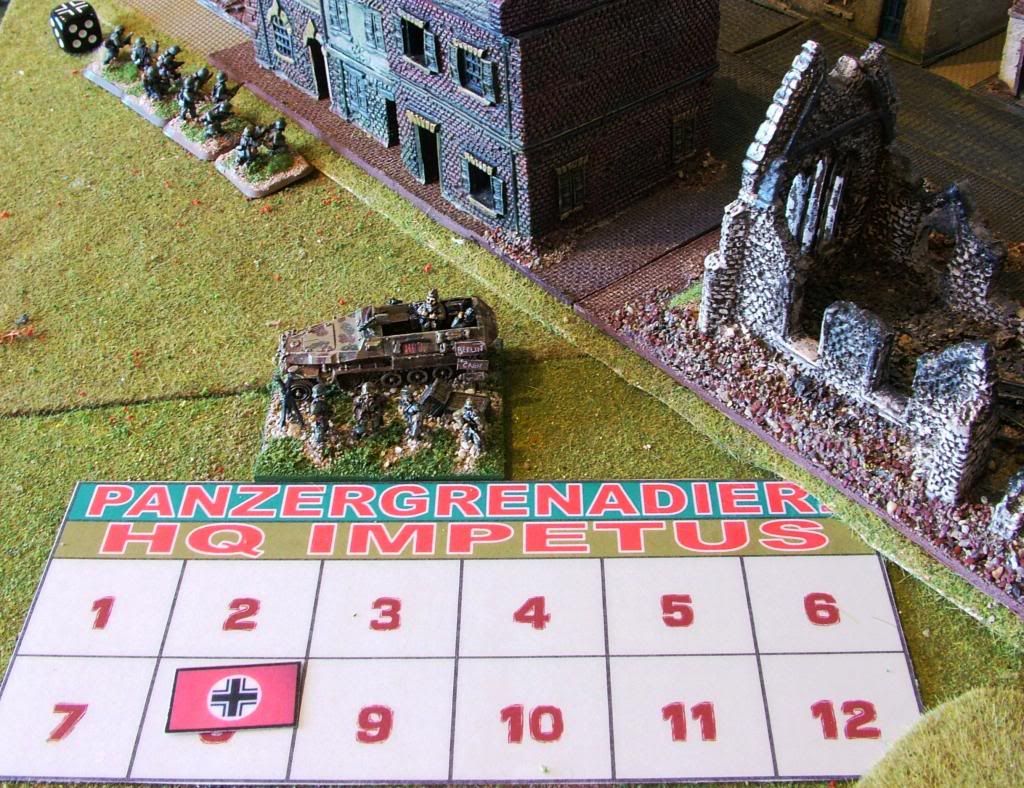 Command & Control: How does the command & control system work? Very simply (and it is simple) each platoon or combat group activates, (requiring a score of 7 or more on 2D6) and is are either issued an order if your command phase or are permitted to either defensive fire or fall-back if it's your opponents command phase. Added to this mix are your HQs. The importance of an HQ is that any platoon within their command radius may attempt activation for free; while those platoons not in command radius have an additional cost of 1 HQ Impetus as well as their activation roll. Thus those units not in command drain your command ability as you attempt to activate them, and this is in addition to all the other uses that HQ Impetus is required.
HQ Impetus: Each turn a player will receive a certain amount of HQ Impetus. Impetus is used to carry out command tasks, such as call in artillery, ensure hesitant platoons activate and receive orders, use more demanding formations such as combined arms combat groups, coordinated assaults or even Human Wave assaults. It represents command and control, the amount of energy and grip your HQ has over the current situation. Your impetus depends on the quality of your army and a bit of luck, your 1D6 roll. So well trained armies can undertake a good number of tasks per turn, making them more flexible and responsive to the current tactical situation. Whereas less well trained armies have less impetus, thus have more limited options. Of course, HQ Impetus is not just restricted to your command phase, it's also needed to ensure defensive fire or fall back activations in response to the enemies command phase. This is where your command options come in, use the majority of your impetus to ensure your artillery is called in and your troops get moving or go for fewer options to ensure you are able to respond effectively to the enemy's movements?
TURNS 1-3: Each game turn in PanzerGrenadier is split into four simple phases, Initiative, Command, Exploit and Morale. There is no separate movement phase, shooting phase or melee phase. Each platoon activation blends all these separate "phases" into one single phase or more properly "engagement", during a particular players command phase. The game turn is not a strict IGOUGO system, but nearer a WE-Both-GO system, as each player interacts significantly in the other players command phase through reactions such as defensive fire or fall-back moves.
The Russian forces enter the board and take their first move - absolutely no German units can be seen. This means the Russian is cautious at the start; he doesn't want to run straight into some unseen MG42 or anti-tank gun nest without at least attempting some reconnaissance first. Thus his forward platoons push up on Tactical Move & Recon orders probing ahead for hidden German positions. Although the Germans gained the initiative in the opening turns the player passed to the Russians, as they have no desire to move out of their hidden deployment areas. (By doing so they also deny the exploit phase to their opponent.) By Turn 3 the Russian player is reasonably confident that there are no immediate nasty surprises in store so moves up his T34 armour with supporting infantry straight at the forward orchard area to overrun any potential German positions and secure this good position to drive towards their final objective. Over on the Russian left the scouts and supporting infantry press forward again both on Move & Recon orders but all seems clear, so far.
(Reconnaissance is important however players are restricted to just two types of unit that are permitted to carry out recon - command sections and, of course, genuine recon units. And in order to recon you need to have issued a recon order, you cannot expect to gain much info if your men are blazing away in a fire fight or charging up to their next objective. Although one perhaps shouldn't compare our wargames to films there are actually some good examples of this kind of reconnaissance in the likes of "Band of Brothers" or "Generation Kill" (not WW2, I know) - look how often the officers, NCOs and recon units are engaging in upfront reconnaissance, deciding on their direction of advance or trying to pinpoint enemy positions. There are no enemy units placed on the table top for all to see here, and this is what the both the deployment and recon rules are trying to reflect.)
TURN 4: The main Russian attack now moves up and fully occupies the orchard area; this cover will be the staging post to launch an attack on the suburbs direct or support the flanking manoeuvre. In addition the T34/85 platoon moves up to the right of the T34s to provide more support. In the centre the majority of 1 Company advance towards the small village, using the hilly ground by the river line as shelter. The idea is to link up with the scouts and secure the bridge.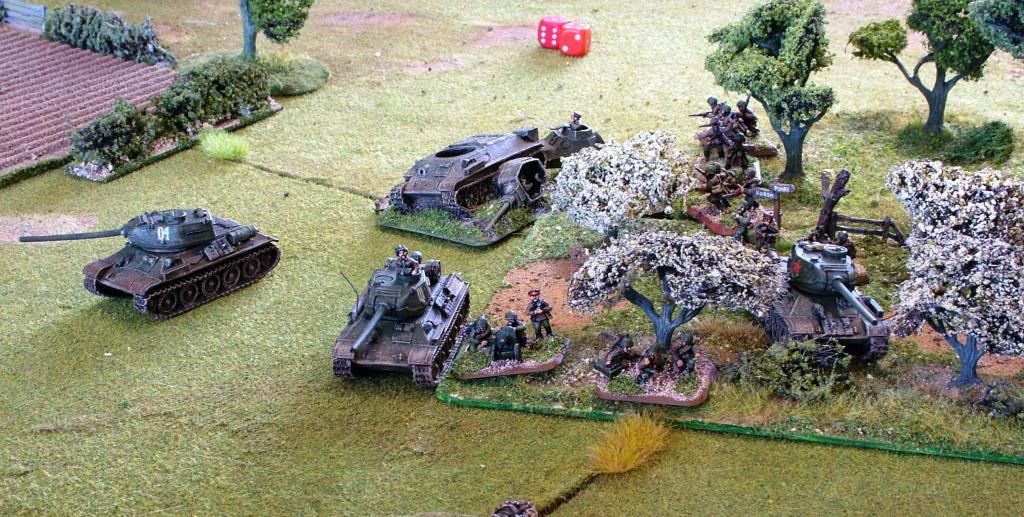 The German player, noticing this armour build up uses hidden movement to push his Panzerschreck section forward to the apex of the ploughed field on his left flank and waits for any enemy armour that may pass close by. The German also has his lone SdKfz 251/9, (deployed in the suburbs on the far extreme left flank to support the infantry), but moving this vehicle would expose it to the Russian armour, (as AFVs cannot use Hidden movement) thus he keeps it in position.
(Hidden Movement: In keeping with hidden deployment, hidden movement is an important aspect of WW2 tactical warfare. There's little point in the German player moving up his sneaky Panzerschreck section if, as the Russian player, I can clearly see him doing it. I'll simply ensure that my T34/85s skirt around that position. This completely eliminates surprise and ambushes from the game and makes life just too easy for attacking players. However hidden movement is restricted to just infantry and manhandled guns, as trying to keep armoured units hidden as you move them around the battlefield is fairly unlikely, due to their size, noise and sheer amounts of smoke and dust thrown up by their engines and running gear.)
TURN 5: Germans again win the initiative, due to the Russians rolling a poor 2 and this time takes the first command phase. The German player now brings down indirect fire from the 150mm gun upon the advancing T34/85s in a hope to slow or interrupt their progress, despite requiring suppression morale tests the Soviet tanks survive the barrage unscathed. With the enemy T34s now closing in the German player decides he must commit his Panthers, they are issued a Move & Fire order, take a short move screened by cover and fire before the T34s can respond. The T34 platoon commander's vehicle is hit and brews!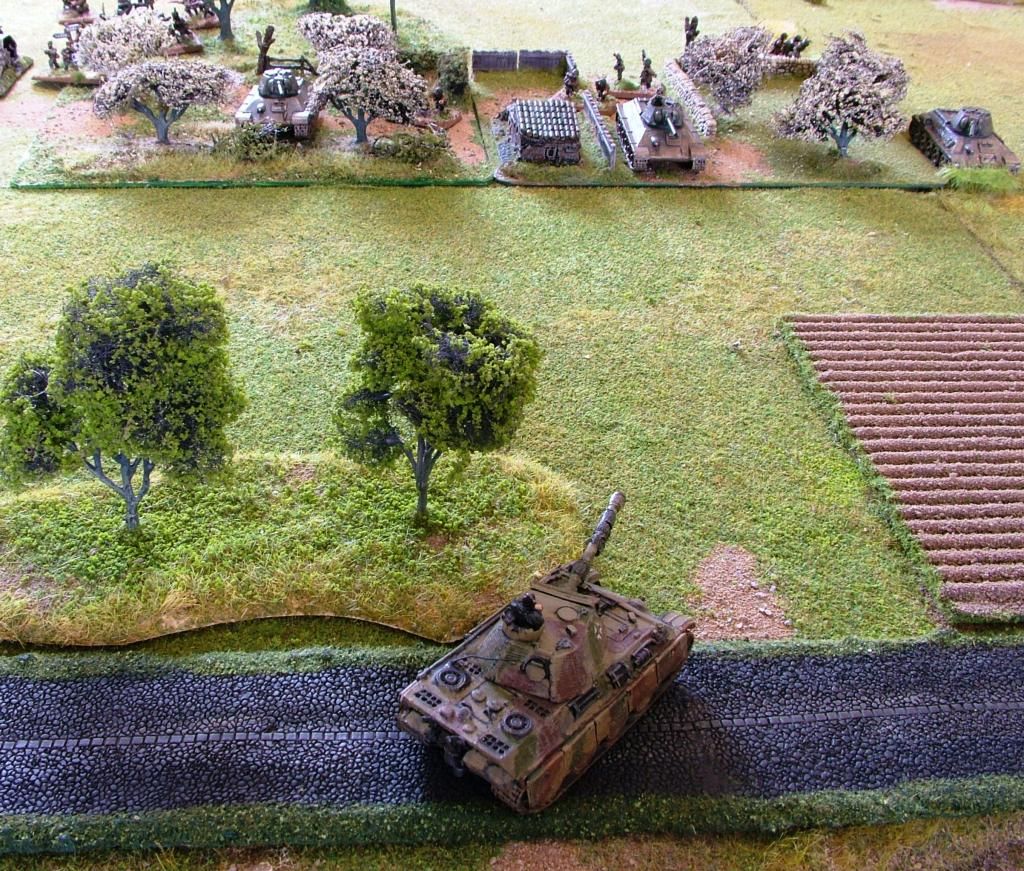 Russian command phase: So the fascist armour is exposed at last! The Soviet players first action is to call in an off board artillery mission to take out or at least try and suppress the Panthers. Successful communications brings in an accurate barrage but the fire for effect is poor, doing no harm to the enemy tanks. The Soviet player, not wishing to engage his T34s against the superior enemy guns orders the medium tanks, (after some HQ Impetus encouragement, as they roll 5, this is a hesitant result, which means the player has the option to add HQ Impetus to ensure they activate or accept they will not receive an order this command phase), to withdraw further into cover, whilst moving up the better armed T34/85s to deal with the German big cats. The Soviet up gunned tanks flank right thereby avoiding possible defensive fire from the Panther platoon. However in doing so they close to within range of the hidden German A/T section which opens fire and hits causing a possible damage result. Luckily for the Russian crew the round causes no damage and they are able to return fire at close range! Despite the difficulty of acquiring such a small target the combined HE and machine gun fire drives back the German anti-tack section who with two suppression test failures beat a hasty retreat.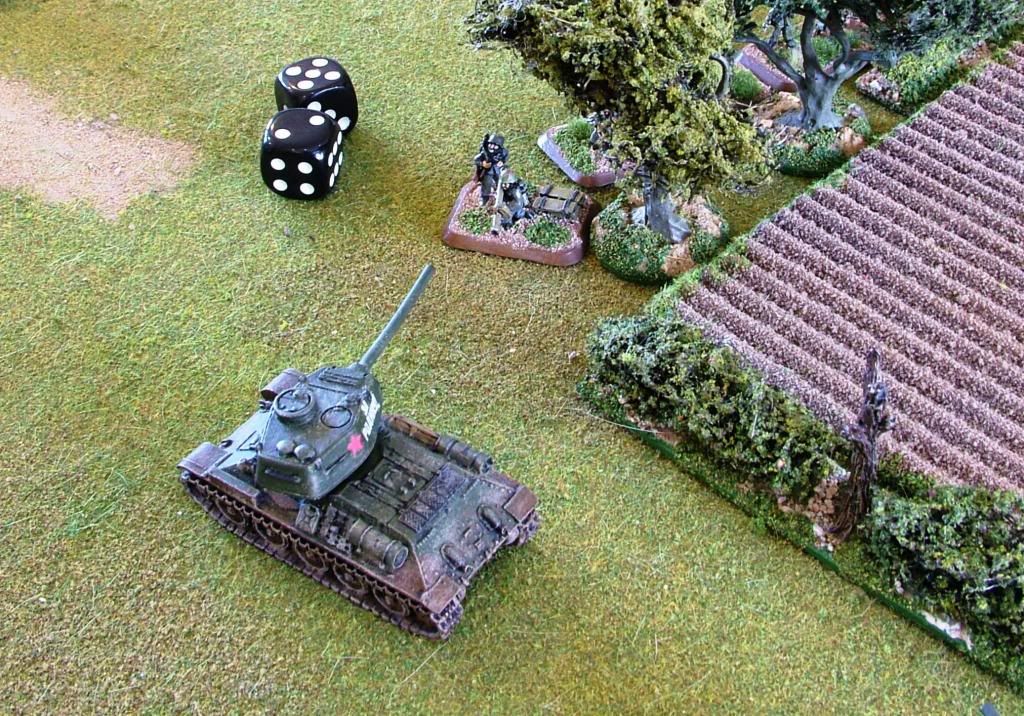 With obvious German infantry holding the hedgerow over on the far right the Russian command orders forward infantry support in order to ensure his armour has a clear run at the German Panthers. A double 1 command confusion result means the infantry remain in position unheeding their new orders, and to make matter worse as the Soviet HQ Impetus was reduced to zero by this, his command phase ends immediately!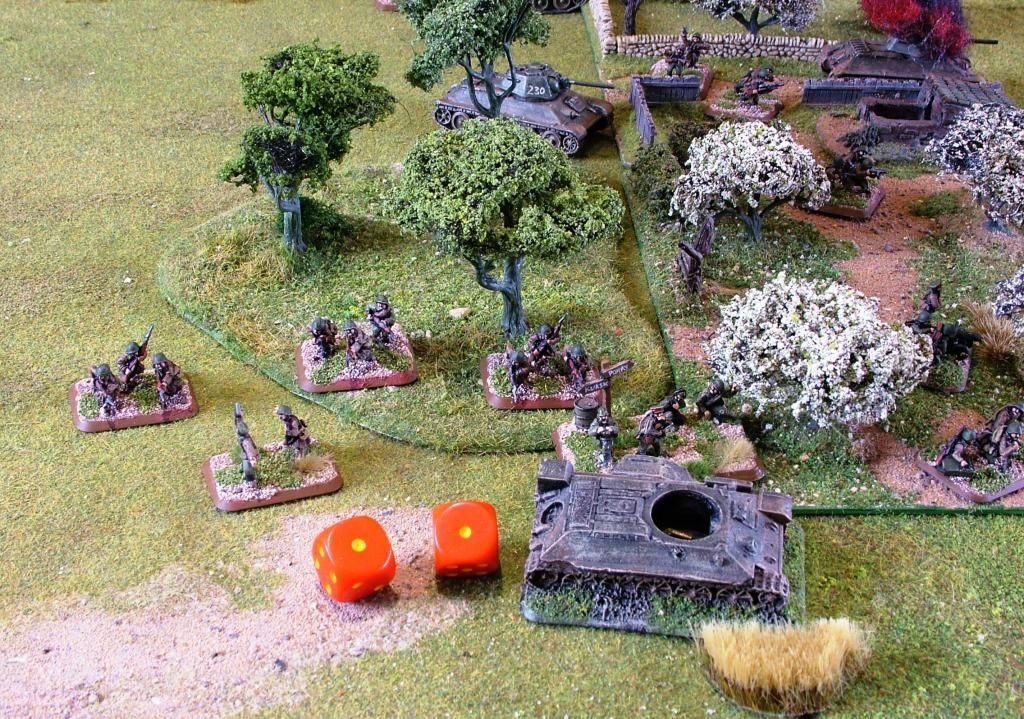 (Command Confusion: An unmodified activation score of 4 or less on the 2D6 activation roll means your platoon or combat group is lacking in any real command this turn and remain completely inactive and cannot be assisted by additional HQ Impetus. No orders can be issued. In addition if the player currently has no HQ Impetus left then his command phase ends. While any Double 1 roll will also drain your Battlegroup HQ of 1 HQ Impetus, as you struggle to influence the battle. And if this takes you to 0 HQ Impetus, then your command phase also ends. This is all part of the games on-going command friction.)
TURN 6:  The Russians gain the important initiative and exploit phase. First things first, call in the off board artillery again to keep those Panthers occupied, the battery is contacted but radio contact is lost before completion, (are the fascists jamming our frequency??)  The rest of 1 Company now move up to place themselves within range of the village, but as they do so they are engaged by the German MG42 in the sustain fire mode, suppressing two sections and bringing the advance to an abrupt halt.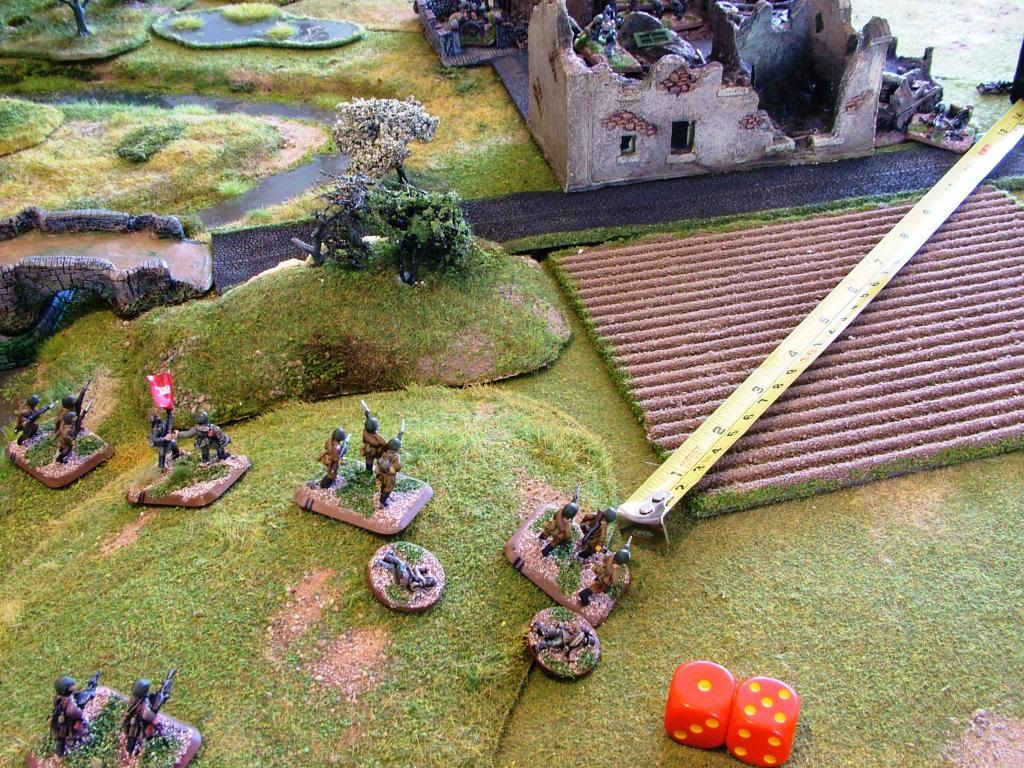 Over on the far right the scouts locate the defending Germans and hope their support platoon can put fire down, unfortunately command confusion is rolled and they sit where they are. The chances of a quick advance in this sector are fading. The T34/85s now take up positions around the orchard to engage the Panthers, but as they manoeuvre into position accurate German fire destroys one T34/85, (the Panther fired first due to their higher troop grading) but fortunately for the Russians the Panther platoon command vehicle rolls a "double 1" on its separate to hit roll resulting in a low ammo result. The T34/85s return fire but miss. The supporting Russian infantry finally get going and close in on the defending Germans around the ploughed field. The Germans open up at close range and keep the Russians at bay, for the time being.
(Medium Machine Guns: The single most dominate infantry weapon in PanzerGrenadier is the sustain fire machine gun. These weapons have the same weight of fire an entire infantry platoon but significantly superior range. Thus MMG's tend to be both used and responded to in a "realistic" fashion. If they catch infantry in the open they can be devastating indeed, even with a below average roll the opponent is probably going to be pinned, as was the case with the advancing Russian platoon. Luckily for them they were moving tactically, had they been using a rapid advance, which gives a +1 target modifier, it would have been even worse. Once an MMG has opened up we then see its other effect - that of an area denial weapon. Infantry generally aren't going to advance into that kind of fire and this is where other tactical options are needed, support weapons such as your own MMG's or mortar fire to keep these machine gunners heads down, the use of smoke, armour or perhaps best, flank the MMG's position.)
German command phase:  The German player activates his Panthers and despite a hesitant result uses HQ impetus to ensure they get their orders and issue fire upon the T34/85 threat to their front. The platoon commander misses (not assisted by his low on ammo status) while the remaining Panther hits and damages another T34/84 forcing it to retire. 
In the village the defending German platoon moves up to the edge of the building line ready for an anticipated Soviet infantry assault, (units can only be spotted and engaged if on the edge of terrain features).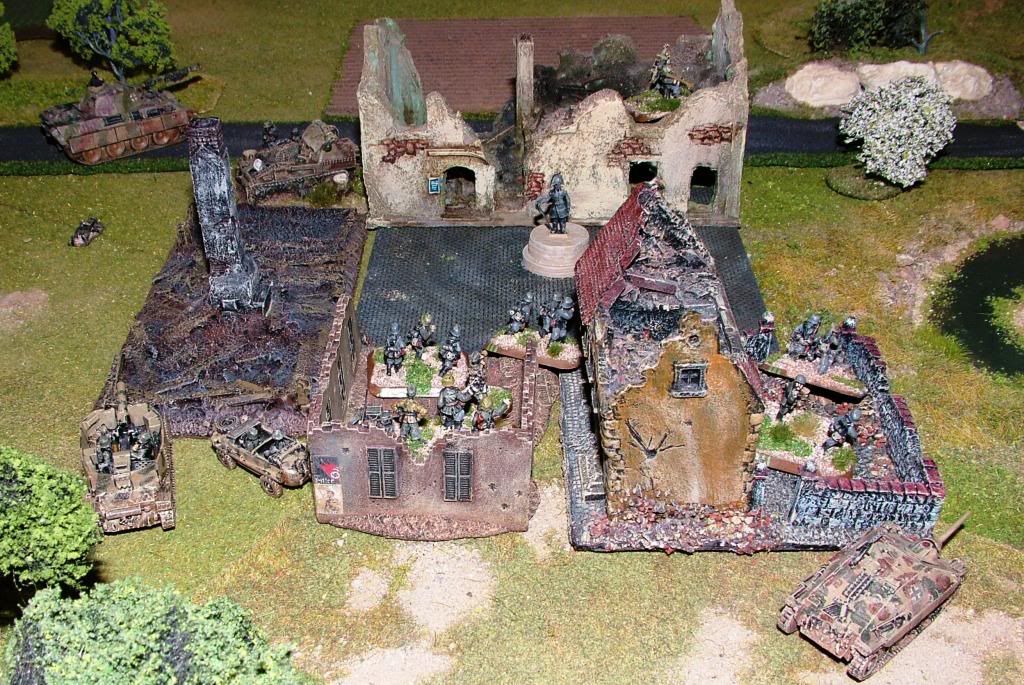 Meanwhile the far right flank platoon desperately needs to activate to keep the flanking Russians scouts at bay. Not only are they "not in HQ contact" (requiring 1 HQ Impetus just to attempt activation), but they then roll 5, requiring two more HQ impetus to get them going! They open up and force back the Russian scouts. However this effort has exhausted the German impetus for this turn. The German then attempts to activate this platoon holding the ploughed field and if possible get this AT section back into the action. He rolls a four - a command confusion result and with no HQ Impetus left his command phase now ends!
Exploit Phase - the Russian has four precious exploit orders, one per HQ unit. Does he bring on his reserve platoon now or hold out a bit longer? Realising that the Germans will probably take the Exploit phase more often than not, he opts to ensure his reserves get to the action early, so they deploy over by 1 Company's HQ and take shelter behind the higher ground adjacent to the river. The second order is used to pull his flanking infantry platoon into back into command range and adopt better positions. He then promotes a T34 section to replace their lost platoon commander. (This is important as under Army Doctrine Russian platoons cannot receive additional HQ Impetus unless they are commanded.) Finally, the Russian commander decides to keep up the pressure - and does so by bringing on his IS2 heavy tank platoon. He decides to bring them on by the road entry point rather than on his nearer right flank, reasoning that as now he has a foothold in the village these tanks will be able to advance easily into the exposed German flank, rather than risking even this heavy armour on a frontal assault on the Budapest suburbs.
Both sides now conduct their rally tests and a few sections on each side shrug off their suppressed status.  (The Exploit Phase: The winner of the initiative is entitled to sole use of the exploit phase. The Exploit Phase represents one side having the tactical edge over his opponent. His forces are dictating the pace of the battle while the enemy is temporarily on the back foot. Thus, each turn the winner of the initiative is permitted a number of limited but important options to assert his tactical superiority. These options include a limited movement, the deployment of reserves, including infantry reserves deploying on table onto an HQ or deploying any kind of reserve on the table edge and promotion to replace lost command sections.)
TURN 7: Russian initiative again, the Germans rolled a 1! The Russian commander surmises that unless the Russians can deal with the Panthers he will lose this battle. The Russian tanks have no choice but to close in, as standing off engaging the Panthers with their tough frontal armour only plays into German hands. So, his command choices for this turn are first to request an off board smoke mission to blind the German tanks before closing in with his armour. Successful contact is made and although the mission is slightly off target it's still good enough to blind the Panthers sufficiently (the smoke screen actually lands on the lead Panther, which means is obscured rather than completely blinded). The T34/85s engage the one exposed Panther and are successful in forcing it to disengage. With both Panthers now at a disadvantage the T34 platoon is ordered to move out, and with some HQ encouragement receive a Tactical Move & Fire order targeting the lead Panther hoping its low on ammo status will be to their advantage. As the Soviet armour moves up the Panther rolls to engage in defensive fire and turn up a command confusion result, obviously he smoke is doing its job! The T34s halt and fire but both miss.  (Typical of my dice rolling!!)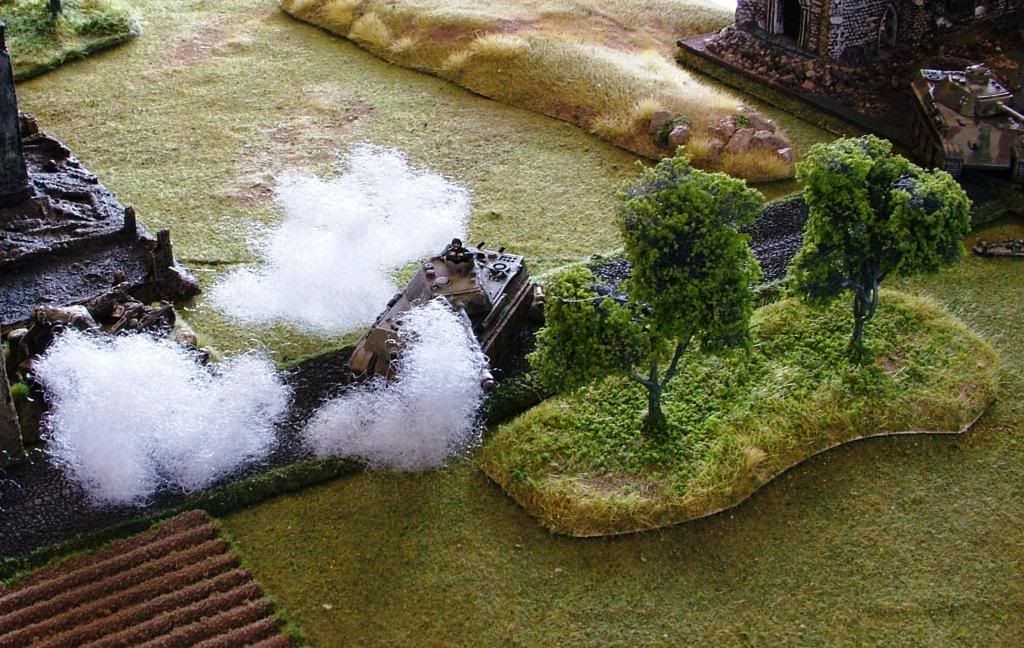 Taking advantage of the smoke that's now screening also the German MG42 position the Russian commander sees his chance and orders A Company to assault the village. Some tactical choices to consider here, do the Russians execute one all out massed charge with both platoons or risk using one platoon to first lay down fire in order to damage the German defenders and send in just one platoon on its own? He opts for the safer later option, so the lead platoon undertakes a Tactical Move & Fire order to initially try and suppress the German defenders and, although they pay a heavy price (losing one section and have another suppressed), they successfully pin the all important German LMG squad (thereby halving the Germans platoon's firepower). Now for the coup de grace, he raises the red banner and declares a Rapid Advance with his reserve platoon, (this increases a platoon's movement by up to 2D6" but the downside is they present an easier target to the enemy.)  In they go - Urrah!!  German defensive fire scores just one suppression test which the Russians pass and close in. The close assault is now resolved, with the Germans having the advantage of defending buildings, while the Russians outnumber them and are rapid advancing - the dice are rolled and the Soviets win! Two German sections are eliminated at the cost of just one suppressed Russian section. The Germans abandon the front of the village and the Russian take possession of this vital feature.
(Defensive Fire: Note that this German platoon has defensive fired twice, that is because defenders may defensive fire an unlimited number of times if close assaulted from the front arc. This stops those situations where one enemy squad effectively draws off the fire of the defenders allowing others to charge home unmolested - hardly a representative of automatic fire warfare. So if your opponent keeps charging against your machine guns you keep firing until either he eventually gets in or gives up, most probably the later. But if assaulted from the flank or rear there is no defensive fire option. This reflects the fact that troops under battlefield conditions do not react instantly to the presence of the enemy or even realise that they are there if attacked from the flank or rear. This also, hopefully, encourages the use of period tactics.)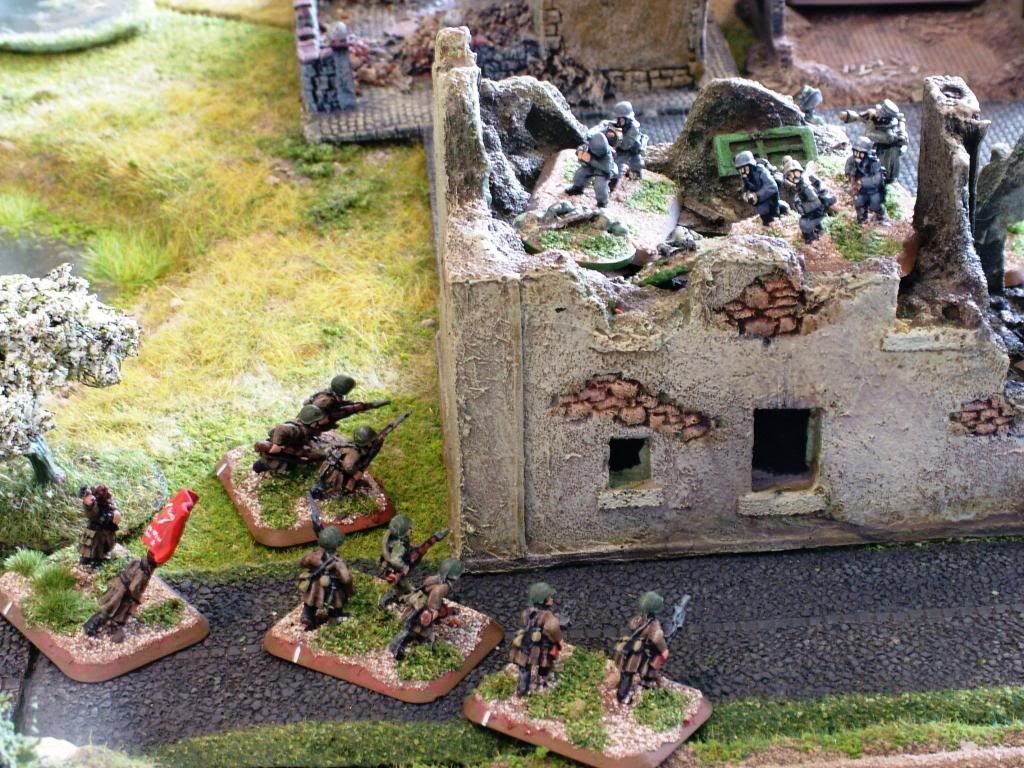 German Command Phase: The German commander can see the battle is turning against him - what are his command choices? He needs time to reorganise his now battered defensive line, so opts to bring in his one general artillery mission to disrupt the Russians, then to use Withdraw (a short tactical retreat, but targeting withdrawing units incurs -1 modifier as these troops are doing their best to avoid being seen and making maximum use of cover), and Rally orders to pull his command back to hold a line from the village to the Budapest suburbs, everything else is to be abandoned.

Second instalment next week or you can catch the full article in this months Miniature Wargames!

DB