General de Division
Posts: 1,969
DRESDEN A.A.R. SALUTE 2017.
Situation: The Battle of Dresden, 27th August 1813. French forces have secured the city of Dresden from initial allied attacks and are now fully deployed to counter-attack. On the French left the Allies have relinquished the Grosser Garten and fallen back to a line secured by the villages of Gruna and Strehlen. Our Salute game of General d'Armee begins at this point in the battle with the allied objective of holding the two villages and if possible retaking the Grosser Garten. The French objectives are to push the Russo-Prussian line back and capture both villages.
The French forces consisted of two divisions are under the command of Marshal Ney, graded as a campaigner under the rules, (a good, solid general), meaning Ney received one ADC per brigade under his command so could gain up to eight ADC's per turn, (the instruments of General d'Armee's command and control mechanism). The Allies are under the command of the Russian General Wittgenstein, was graded as a Commissariat, (best described as having an understanding of deployments in battle but either not particularly experienced or simply not that good), meaning although he commanded eight brigades, he could only receive up to a maximum of seven ADCs per turn.
FRENCH FORCES: C-in-C NEY (Campaigner) = 8 x ADCs
| | | | |
| --- | --- | --- | --- |
| Brigade: | Unit: | Strength:        | Grade: |
| Curial | 2 x Middle Guard | Standard | Elite |
|   | Saxon Guard | Standard | Veteran |
|   | | | |
| Barrois | 4 x Young Guard | Standard | Veteran |
|   | 6pdr foot battery | Standard | Veteran |
| | | | |
| Decouz | 4 x Young Guard | Standard | Line |
|   | 6pdr foot battery | Standard | Line |
|   | | | |
| Colbert | Guard Chasseurs | Large - battle cavalry | Elite |
|   | Guard Lancers | Large - battle cavalry | Veteran |
| | 6pdr Horse battery | Standard | Elite |
Note: Colbert and Curial are not under Ney's command and would only be released to Ney if the Allies directly threatened the Grosser Garten.
 ST.CYR

| | | | |
| --- | --- | --- | --- |
| Brigade: | Unit: | Strength:        | Grade: |
| Claperede | 2 x Legere | Standard | Line |
|   | 2 x Line | Standard | Line |
|   | | | |
| | | | |
| Godard | 2 x Line | Standard | Line |
|   | 2 x Line | Standard | Recruits |
|   |   |   |   |
| Berthezene | 4 x Legere | Standard | Line |
|   |   |   |   |
| Sahr | Saxon Light | Standard | Line |
|   | Saxon Grenadier | Standard | Line |
|   | 2 x Saxon Line | Standard | Reservists |
|   |   |   |   |
| Pajol | 14th Hussars | Standard - campaign cavalry | Line |
|   | 7th Lancers | Standard - campaign cavalry | Line |
|   | Prinz Clemens Uhlan | Standard - battle cavalry | Line |
|   |   |   |   |
| Artillery | 6pdr foot battery | Standard | Line |
|   | 12pdr foot battery | Standard | Veteran |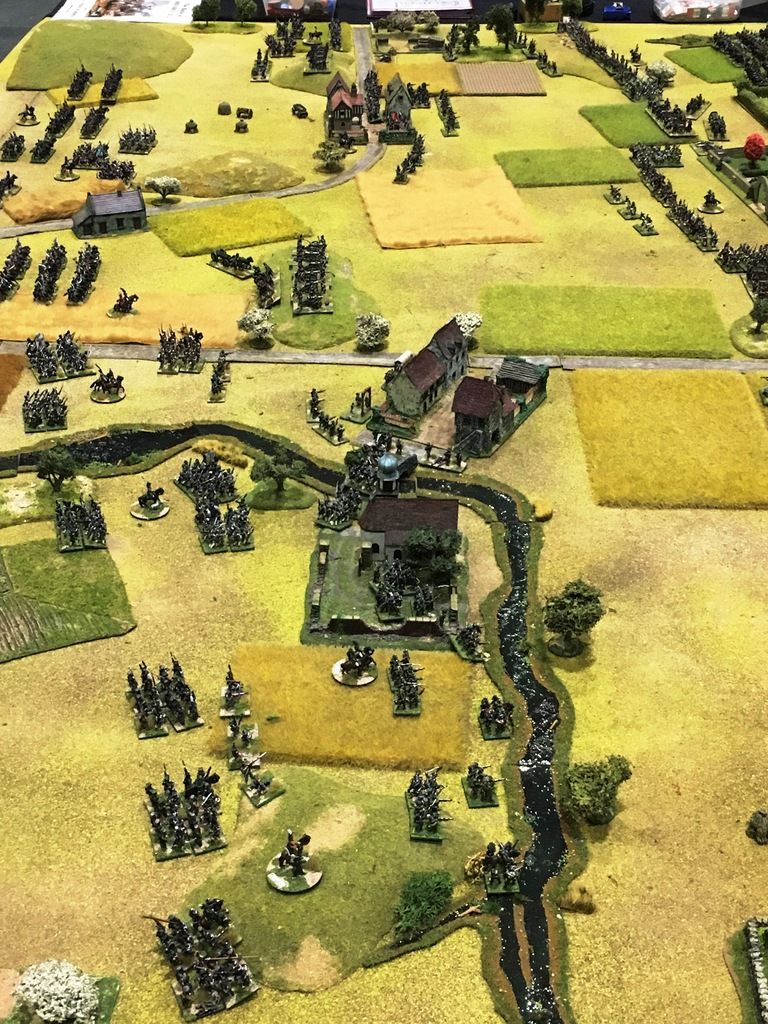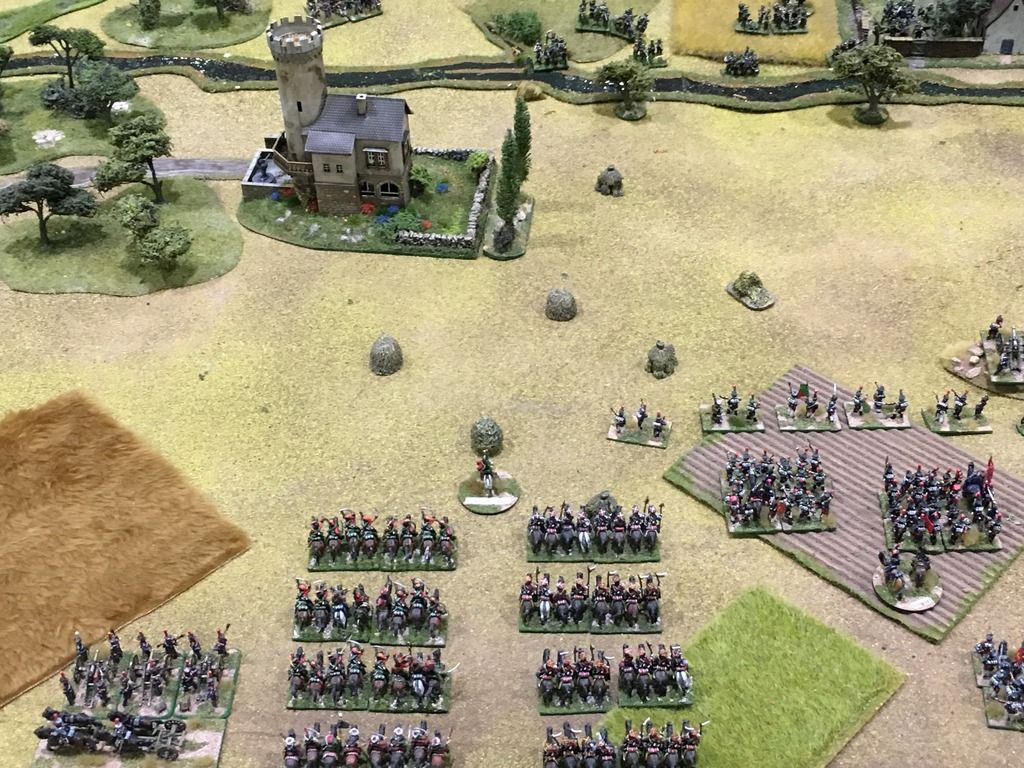 ALLIED FORCES: C-in-C WITTGENSTEIN (Commissariat) = 7 x ADC'S
| | | | |
| --- | --- | --- | --- |
| Brigade: | Unit: | Strength:        | Grade: |
| Mezentov | 2 x Russian Jager | Standard | Line |
|   | 2 x Russian Line | Standard | Line |
|   | | | |
| Tuchkov | 4 x Russian Line | Standard | Line |
|   | 9pdr foot battery | Large | Line |
|   | | | |
| Rudinger | Louby Hussars | Standard - battle cavalry | Veteran |
|   | Grodno Hussars | Large - campaign cavalry | Line |
|   |   |   |   |
| Udom | 2 x Pavlov Grenadiers | Standard                 | Veteran |
|   | Prussian Leib Garde | Standard                 | Veteran |
|   |   |   |   |
| Leontiev | Russian Cuirassiers | Large - heavy cavalry | Veteran |
|   | Russian Dragoons | Standard - battle cavalry | Line |
Note: Leontiev is not under Wittgenstein's command and would only be released to Wittgenstein if the French broke through their defensive lines or captured both villages.
 KLEIST
| | | | |
| --- | --- | --- | --- |
| Brigade: | Unit: | Strength:        | Grade: |
| Klux | Prussian Fusilier | Standard | Line |
|   | 2 x Prussian Line | Standard | Line |
|   | Prussian Jager | Standard | Line |
|   | 9pdr foot battery | Standard | Line |
|   | | | |
| Pirch | Prussian Fusilier | Standard | Reservist |
|   | 2 x Prussian Line | Standard | Reservist |
|   | | | |
| Zeithan | 3 x Prussian Landwehr | Standard | Recruits |
| | | | |
| Theilmann | Uhlans | Standard - campaign cavalry | Line |
|   | Landwehr | Standard - campaign cavalry | Reservist |
|   | 6pdr horse battery | Standard | Line |
(General d'Armee classifies unit's strengths as small, standard or large. There's no fixed basing requirement, players decide on the unit size/figure ratio of their choice and then allocate a strength grade to each unit according to the scenario. The basic game troop grades are Elite, (the best of the best), Veteran, Line and Recruit. The tactical units are infantry battalions, cavalry squadrons or regiments and artillery batteries.)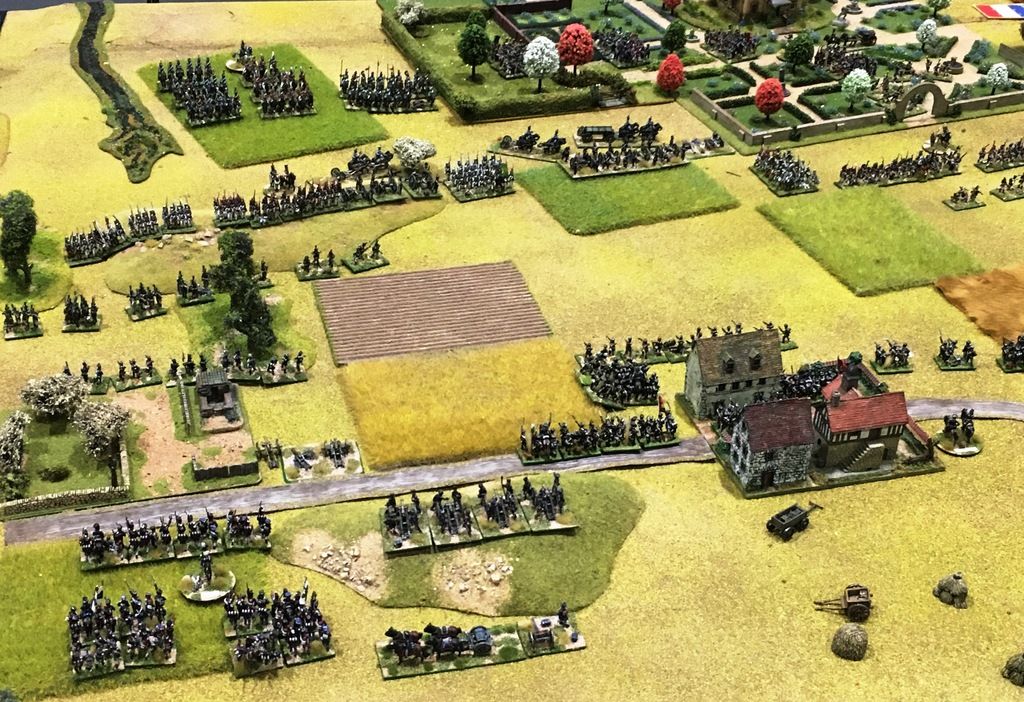 Opening moves.
As French forces moved up through the Grosser Garten, Wittgenstein ensured that both villages were garrisoned and held his two supporting cavalry brigades back on reserve orders. Ney's plan was relatively straightforward, he would engage energetically with the Young Guard supported by Berthezene's brigade against the Russian lines anchored on Gruna, while the Saxons would tie down the Prussian left wing leaving the brigades of Claperede and Godard to strike at the village of Strehlen, supported by the artillery and Pajol's light cavalry.
The French artillery bombardment.
Ney initiated the action by deploying the corps 12pdr and 6pdr batteries opposite the Prussian lines posted near Strehlen and ordered an artillery assault for the first three turns to suppress or drive off the defending Prussian battery stationed by Strehlan. (Rules note: This represents the bombardment phase with artillery firing faster than the standard rate. However this is a double edged weapon, batteries on assault fire are quite likely to inflict more casualties on the enemy - and the Prussian battery did suffer significant casualties over the next few turns, but a poor roll could result in fatigue casualties for your gunners, thus wearing out your artillery, and reducing its future impact on the battle. Hence reserve artillery batteries are very useful indeed!)
The Saxon advance.
The Saxons now attacked and decided that line was best as their columns were coming under effective artillery fire causing disorder in the ranks. (A good artillery result will see a discipline test requirement upon the target, which could result in disorder or even a retirement as well as casualties.) The Saxons also threw out their light battalion to support their brigade skirmishers in order to overpower the Prussian skirmish line. In the command phase Ney used additional ADC's to ensure that the Saxon skirmishers kept up the pressure and could reinforce their skirmish line if needed. (Rules note: The skirmisher ADC tasking sees your skirmishers receive a slight firepower boost, representing the effort your commanders are putting into this attack, while also permitting supporting brigade battalions, be they line, light infantry or even grenadiers to deploy into skirmish order and reinforce the brigade skirmish line. However the down side to this tactic is that those units so deployed remain in skirmish for the rest of the  game, whereas designated light infantry battalions have the option to be recalled if necessary.) Within a few turns the Saxons gained the skirmish advantage and overcame the first wave of Prussian lights. Now with the Prussian artillery severely damaged and skirmishers overpowered, the main Saxon brigade was ready to engage the main Prussian line. (The allies can also deploy the Skirmisher tasking but the Prussians decided not to deplete their close order strength, as they had already deployed the jager battalion to garrison Strehlen, keeping their line battalions massed for the infantry clash to come.
The Young Guard's attack on Gurna.
The French attack on Gruna began as an echeloned attack but as Decouz's brigade repeated failed its command roll this became disjointed and uncoordinated. (In the command phase each brigade must pass a D6 command roll, a score of 1 or 2 means you brigade is hesitant and will not move towards the enemy for this turn though it may still fire or charge formation if the player wishes). This hindrance occurred because Ney was for the time being concentrating his ADCs on his corps artillery brigade and the Saxons, leaving very few if any to carry out other command functions on the battlefield - such as the vital brigade attachment. (Rules note: The brigade attachment ADC tasking gives your brigadiers a reroll should their fail their initial command roll, hence ensures your army is obeying its orders and maintaining the advance. This also impacts upon the initiative. as each hesitate brigade brings a negative modifier to your initiative roll, and winning the initiative is important as he who has the initiative moves first and fires first!)
As such Berthezene's lone brigade of French light infantry reached Gurna first and charged into the village entering melee with the defending Russian infantry. (Rules note: Charges against BUA's are simple and straight forward. The defending garrison issues defensive fire and the attacker then moves straight into melee for the village. Experience players will note that there are no "to charge home" morale checks by either side - this is deliberate, as in Napoleonic warfare garrisons rarely stopped attacks reaching the outskirts of any built up area with firepower alone, while attackers would be highly unlikely to see their opponent flee on their mere approach, villages had to be stormed and taken by the bayonet. Whereas infantry combat in the open is far less likely to produce a melee. Units are more likely to halt prior to contact, retreat or even rout!) The subsequent melee phase saw the French infantry drive out the Russian garrison, forcing the Russian infantry to retreat with considerable lose. The French quickly garrisoned Gurna, but as one would expect post melee, the light infantry where classed as unformed and vulnerable to a swift counter-attack by the Russians. And that's exactly what happened.
The Russians Counter.
Next turn the Russians launched a counter-attack to retake Gurna. Wittgenstein used all available ADC's to raise Mezentovs brigade to assault and hurled two battalions in a counter attack upon the village while a third battalion carried out a coup de main by crossing the stream and charging a French battalion in the flank. (Rules note: An infantry brigade that achieves an obey orders result from its command roll can carry out most actions such as advancing and  firing, but is permitted to launch just one charge. However infantry brigades must be ordered into the assault if they are expected to launch multiple charges. Thus Wittgenstein used two ADCs to order Mezentovs brigade to assault Gurna, he also used an additional ADC as brigade attachment to make sure that order was obeyed. Thus Wittgenstein used three out of his available four ADCs on this command tasking.) As two Russian battalions hurled themselves back into Gurna, their colleagues accepted getting their feet wet in exchange for seeing their flanked French opponent break and rout! (Rules note: Charges against formed opponents are certainly not guaranteed, the odds are against defeating a fresh opponent, but an opponent caught in the flank suffers a significant negative modifier to their charge combat dice roll and a retreat or rout is likely. Any rout will immediately convert brigade's status to falter. Falter marks that dangerous point in a brigades morale, requiring the brigade to test is command roll against results that include more than the usual obey orders or hesitant outcomes, and includes the possibility of retirements or falling back in complete disorder.) As chance would have it the French player scored a one for this next command roll, seeing the French brigade seized with panic and falling back in confusion with the routed battalion dispersing! The French attack on Gurna had now stalled and the French decided that a deployment into line was preferable to further assaults on the village itself. Both sides now contented themselves with exchanging volleys, with neither side giving ground.
 Attack on Strehlen.
Back over of the French right flank, Ney hoped for better success. The Saxon brigade was now fully engaged against the Prussian far right and the moment was ripe to launch attacks upon the Prussian centre and the village of Strehlen. First Pajol's cavalry brigade was ordered to assault the Prussian lines. (Rules note: Brigades placed on reserve require one ADC to be released and committed into the battle line, the player must declare where these reserves join the divisional battle line on their committal. The advantage of reserve brigades have in the command process is that you gain their ADC but they do not make command rolls, so can never be hesitant and impact negatively upon your initiative score. They also may be given additional tasking at a reduce ADC cost to reflect an easier command process, so issuing an assault order costs just one ADC as opposed to the usual two and so on.) Pajol now launched his light cavalry swiftly forward and threw the Prussian brigade into some consternation with one battalion caught in line before the cavalry charge; however it just managed to form square in time and saved itself from almost certain destruction. (Rules note: Units outside a certain distance from charging cavalry may attempt to form square but must first pass a discipline test, with negative modifiers for being in line, fortunately our Prussian musketeer battalion rolled high enough and also being fresh helped, so formed square in good order.) Pajol's cavalry bravely attempted to break the Prussian square but even the presence of Saxon uhlans had little impact and so Pajol's troopers fell back to regroup.
The final attack now fell to the infantry brigades of Claperede and Godard. Some success was had by Claperede against a Prussian landwehr brigade, while Godard's battalions assaulted the village of Strehlen itself. Both sides fought bravely resulting in a prolonged melee which saw the gallant Prussians holding on grimly inside the carnage of Strehlen and the French infantry falling back, badly mauled to regroup. (Rules note: Melees consist of either one or two rounds in General d'Armee depending on the closeness of the casualty results. This is more likely against a BUA, thus our first round resulted in a "fight on" outcome, permitting either side to retire or reinforce. Both Prussian and French reinforced committing their bulk of their brigades into the fight for Strehlen. The French actually drew the second round, but a failure to win within the two possible rounds will see the attacking sided forced to withdraw.) At this point Ney decided that that the line of Gurna and Strehlen would not be breached without committing the Middle Guard infantry brigade or Old Guard cavalry, so the battle died down and ended for the day and a relieved Wittgenstein took the victors laurels!

(Which was just as well, as we were pretty much exhausted! The exciting hubbub of Salute combined with the continual interaction with on-lookers and interest parties lasts for the entire day. Numerous eager "Saltuers" took the opportunity to join the game, taking over commands throughout the day - especially David, coming all the way from Sweden! Thanks goes to all those who helped with the game and joined in, making it such an enjoyable event!)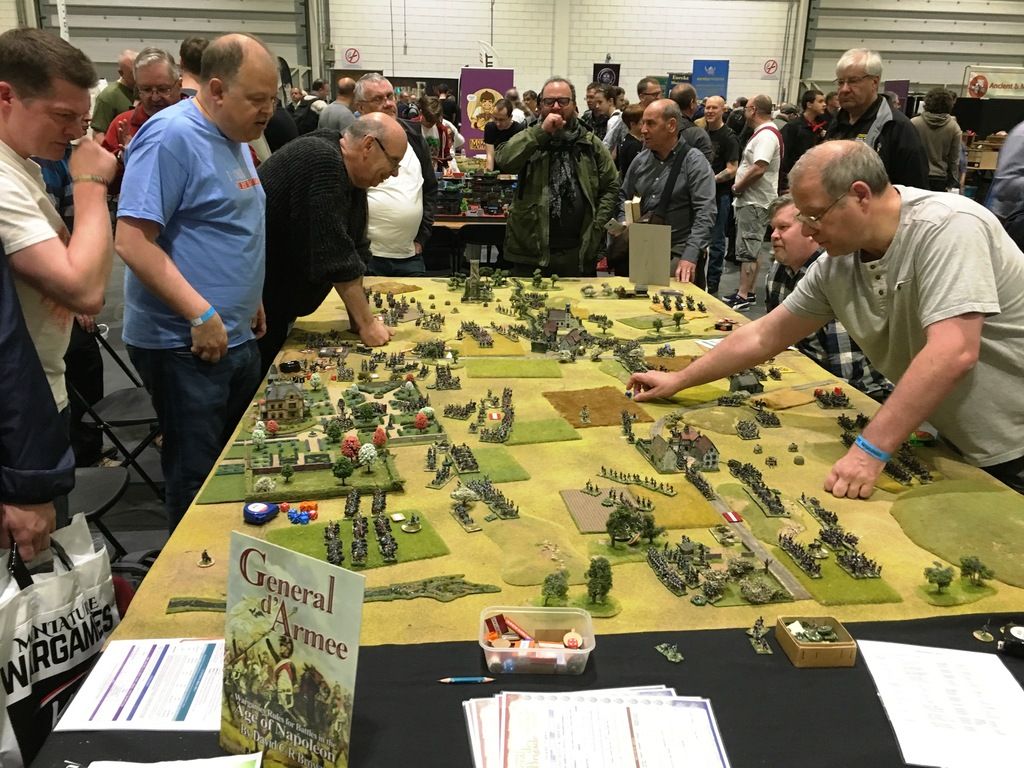 DB

Last Edited By: DCRBrown Apr 24 17 4:00 PM. Edited 6 times