General de Division
Posts: 1,971
Last weekend saw some hardened (and not so hardened) ACW gamers meet up at the Wargames Holiday Centre to refight the Battle of Stones River, and trying out the latest version of Guns at Gettysburg rules. The rules are revising the GdeB Deluxe treatment and at long last, the rules are were they should be! They are slicker, quicker and adopt different mechanisms to the Napoleonic version to produce a more ACW feel.
The wargame began on day one of the battle with the General Rosecrans' Union line spread out, surprised and attacked en echelon by the Confederate forces under General Bragg. The game hinged around how long the Federal front line could hold and/or pull back effectively to enable the plentiful Union reserves to deploy and turn the tide against the rebel advance!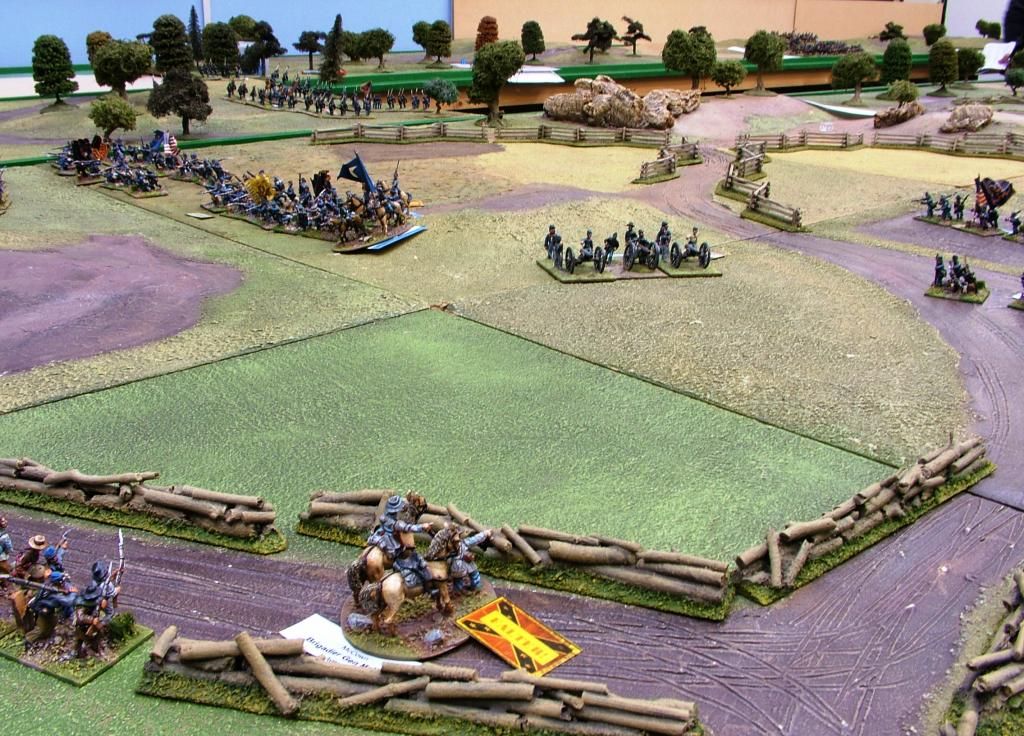 The thinly stretched Union Lines.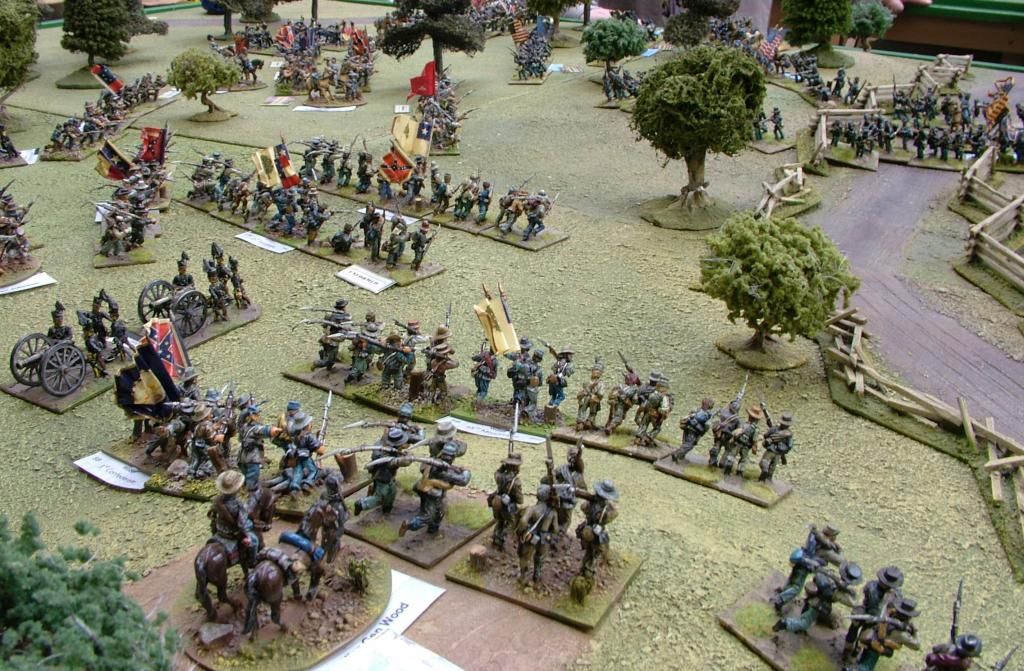 The Confederate surprise attacks under McCown and Cleburne go in!
The confederate echelon stalls as Cheatham and Withers' divisions take far too long to get their order but eventually begin the assault. This delay permits the Union line to redeploy and reserves are quickly committed to the area, resulting in a much stronger defense than anticipated.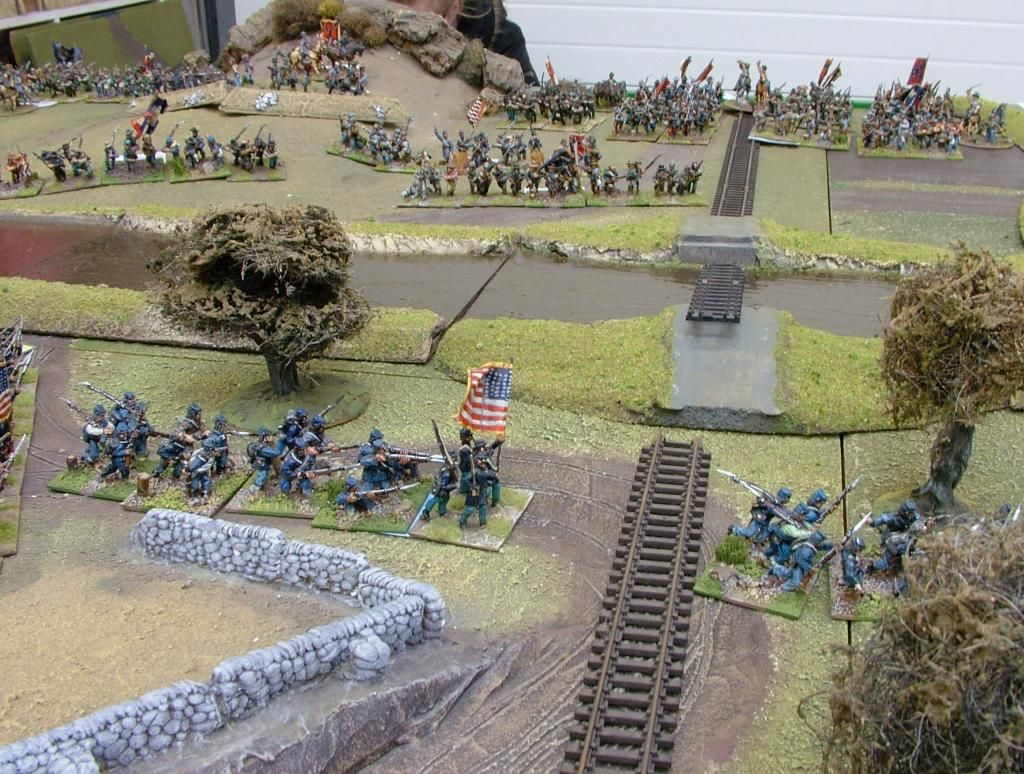 On the far right of the Confederate line Breckinridge's division holds its own and more union troops rush to reorganise their lines.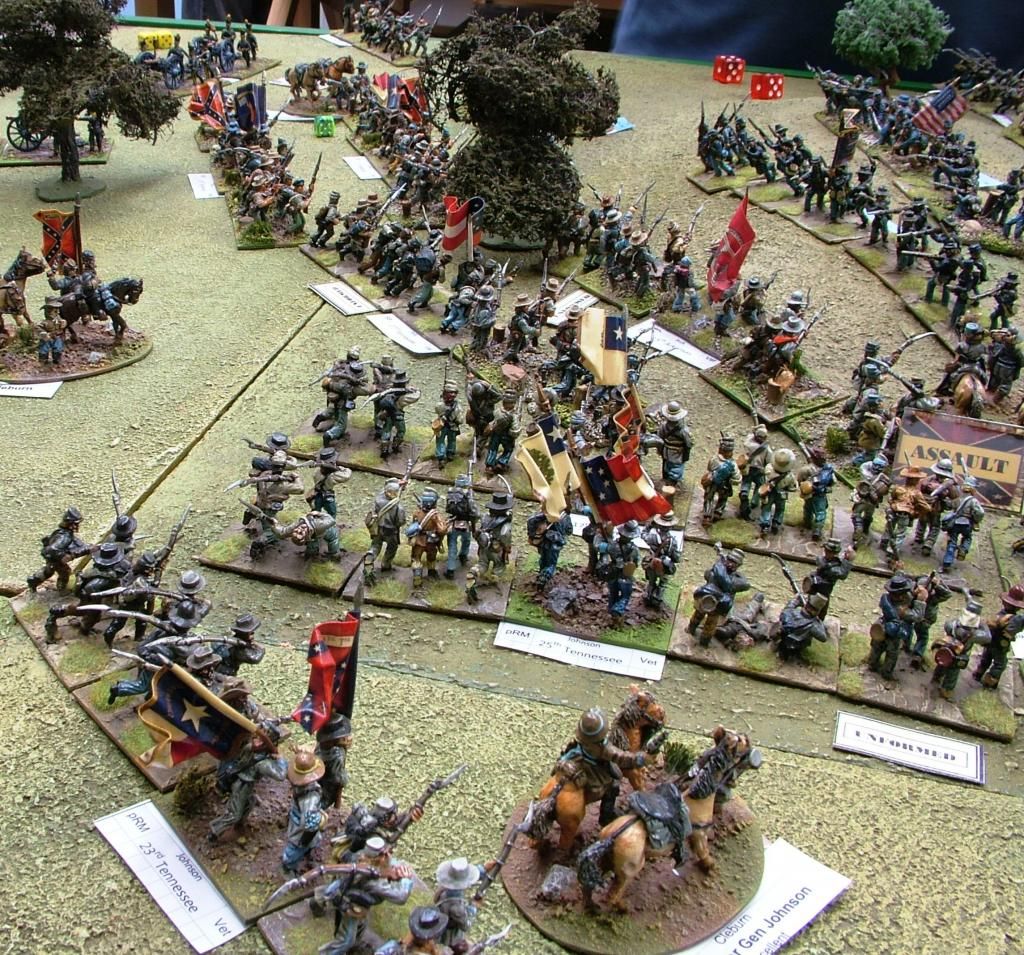 Cleburne breaks the Union line sending he Union defenders streaming back.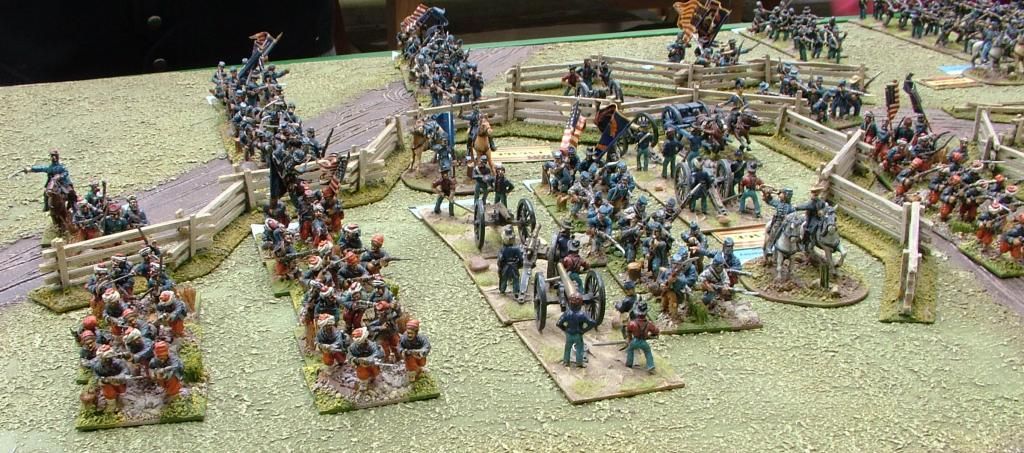 Federal reserves move up on the double quick!
The sluggish Confederate centre finally breaks through.
Intense fighting on the Union centre right as more Federal forces reinforce. Cheatham is now fully committed and his attacks are grinding to a halt.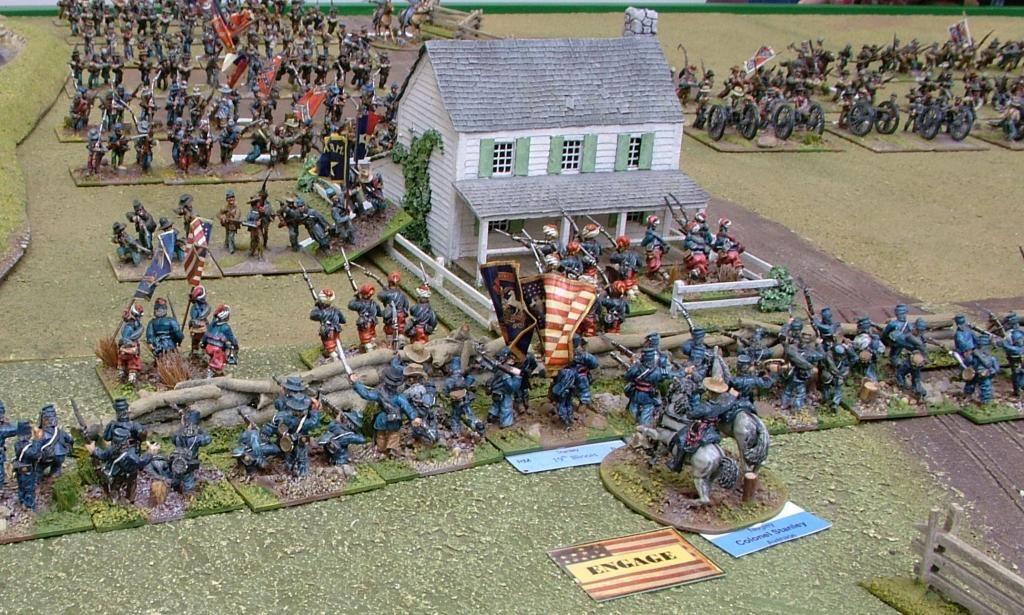 Withers and Breckinridge fail to advance any further on the Confederate right flank.
With McCown exhausted and pulling out of the line, the final Confederate push falls to Cheatham as he smashes through the Union centre right position.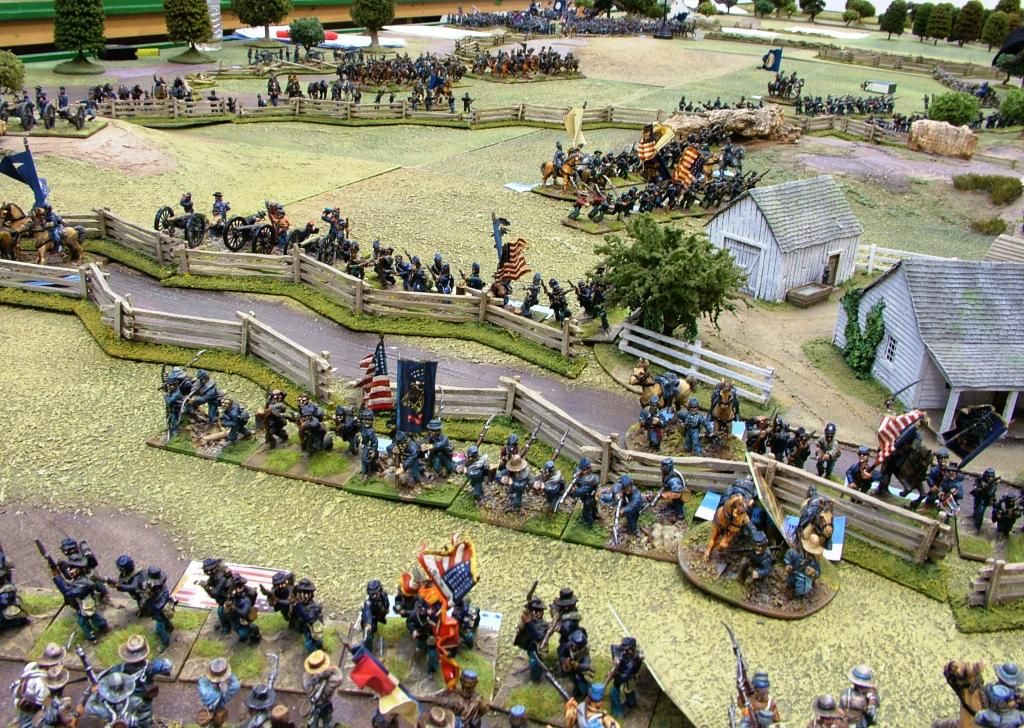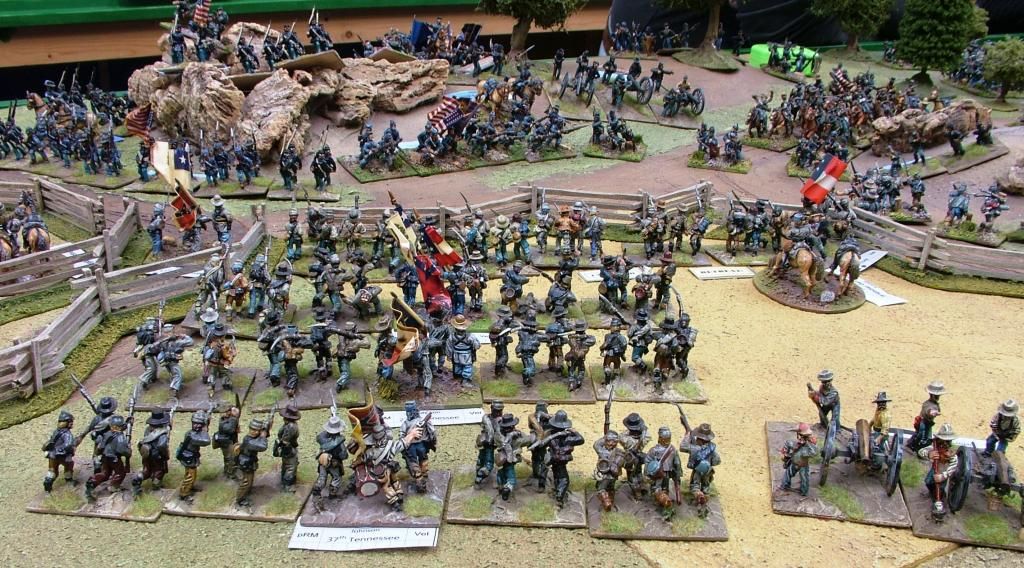 Cheatham's advance now also grinds to a halt as they face more and more Union reserve brigades.
General Rosecrans observes the final halt of the Confederate advance from the safety of his divisional gun line.
A highly enjoyable and tense game, where every order change was vital and timing mattered! The initial Confederate inability (and to be fair sheer bad luck) meant their assaults stalled early on., allowing Rosecrans to reinforce where he needed to and form a second line anchored on his numerous artillery batteries. The game end result was similar to the actual battle, with exhausted Confederate brigades simply unable to advance any further against Union guns and fresh infantry reserves. Many thanks to Mark Freeth for hosting the weekend.
DB