General de Division
Posts: 1,941
As I rewrite Guns of Gettysburg and redevelop the rules I've now reached a point where I have designed some very different mechanisms from the standard GdeB/GaG approach.
The rules have moved on so significantly from their origins, I decided to invite Rich Clarke of the Two Fat Lardies down for a game and play test of the rules in their new format. I was very pleased that Rich thoroughly enjoyed the game, (even though he may not have enjoyed my slightly cold pizza!), Rich commenting especially upon the new command and control aspects.
The new command and control mechanisms worked well, these were developed upon the principle that not all brigades should always obey orders.  (I developed this following a GdeB Aspern-Essling game where as the glorious French we agreed that we needed to defeat the Austrians piecemeal and switch the Guard from sector to sector as the need arose. However, despite the GdeB order system, the differing divisions of the Austrian army advanced in perfect unison, each hitting their French objectives precisely at the same and right time. Ever since then I decided a wargame order system needs more friction that brigade orders alone can provide.)  And in order to achieve this "friction" the player is presented with a series of tactical command choices at the beginning of each command phase. These choices are limited and not always guaranteed, thus provide an interesting set of challenges and game choices prior to launching into the more normal charges, unit movement and firing.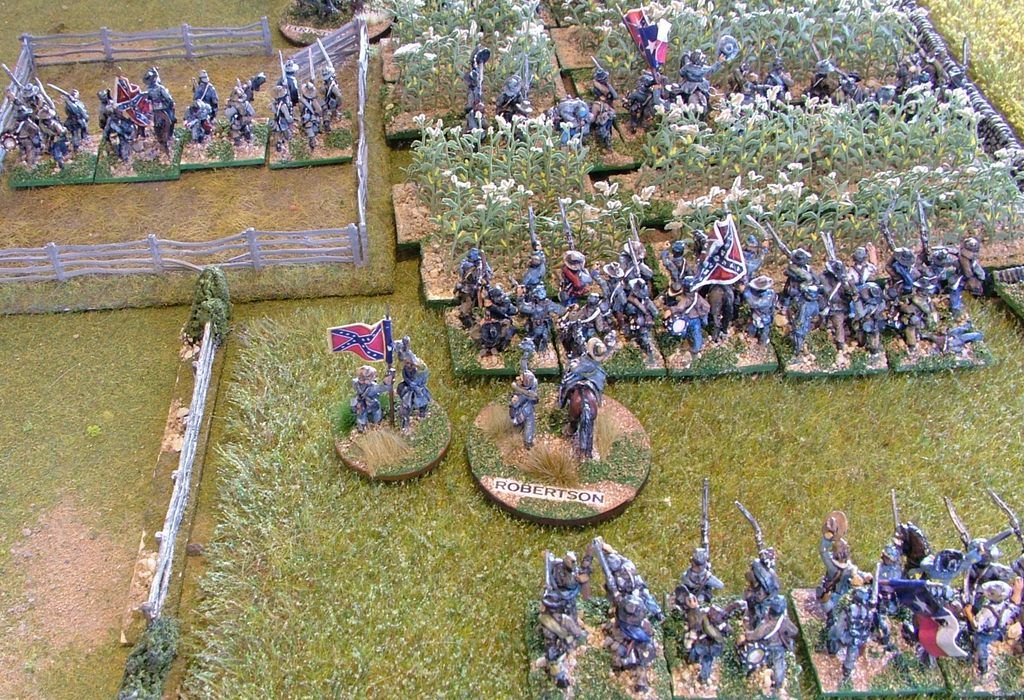 (The Confederate foot officer marked by a flag in the above pic is instrumental in the new command and control system.)
And while we are on charges, movement and firing these areas have seen significant rule changes producing a far more streamlined and less factor and chart driven approach - but nonetheless still maintain the period tactics and nuances that make it the period ACW, (or at least I hope so!)
The development of these rules has moved on significantly from their original roots and thus I feel is probably now a new game system and new set of rules covering the ACW period, but some of the mechanisms will still have a familiar feel about them, even though the rules are certainly not the same as General de Brigade or Guns at Gettysburg.
More updates to follow!
DB
Last Edited By: DCRBrown Apr 1 15 5:16 PM. Edited 2 times