Posts: 123
Alan came over to collect his SYW Austrians I'd painted and I agreed to host a small DKK game for him.  Alan hadn't played in perhaps NINE YEARS.  It was an absolute pleasure to do this.  We did the same scenario that Derek and I had played a week or so earlier
http://generaldebrigade.fr.yuku.com/topic/6097/master/1/#.VVhv-flViko.
This time the Prussians took the role of the Saxons and the Russians replacing the Prussians as attackers.  The village contains two Garrison battalions of musketeers, with two line battalions behind, a single gun on the rise and a small unit of Dragoons adjacent to the village.  A small Hussar unit is off table on a flank, yet to be determined.
Table Looking East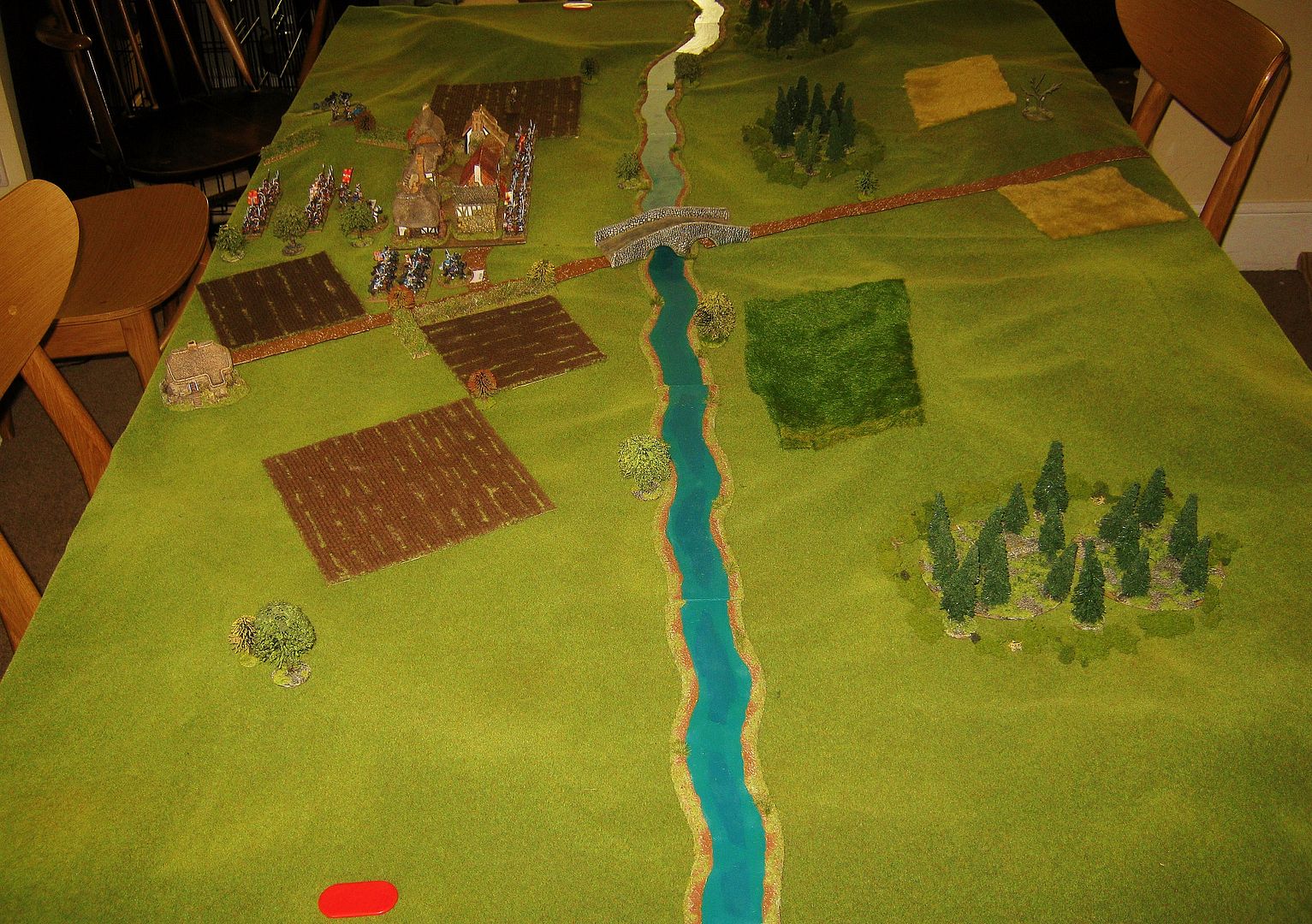 Table Looking West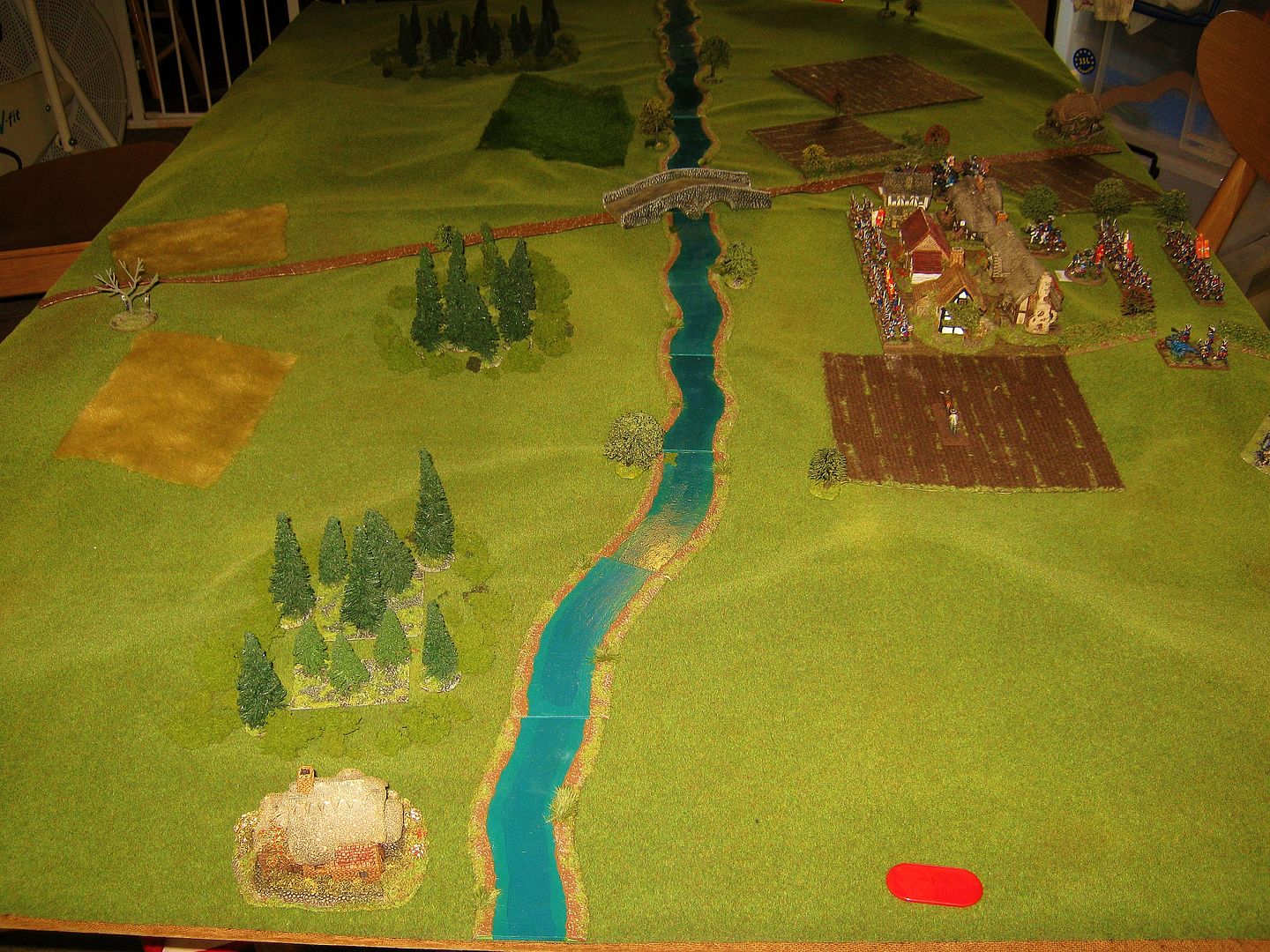 My Russian artillery soon caused fearful casualties on the Prussian Dragoons and they were reduced to below 25% strength and dispersed.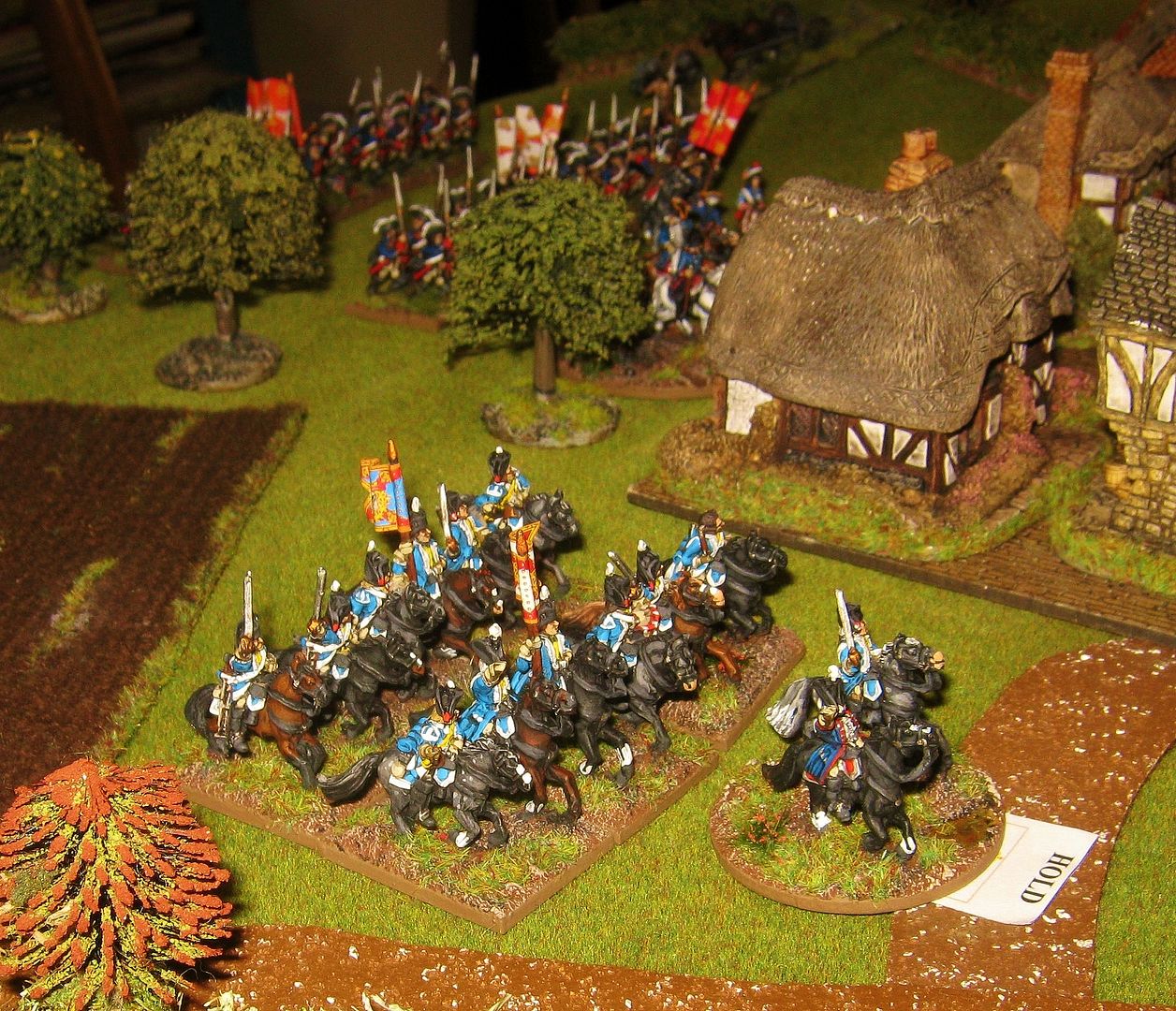 Prussians in the Village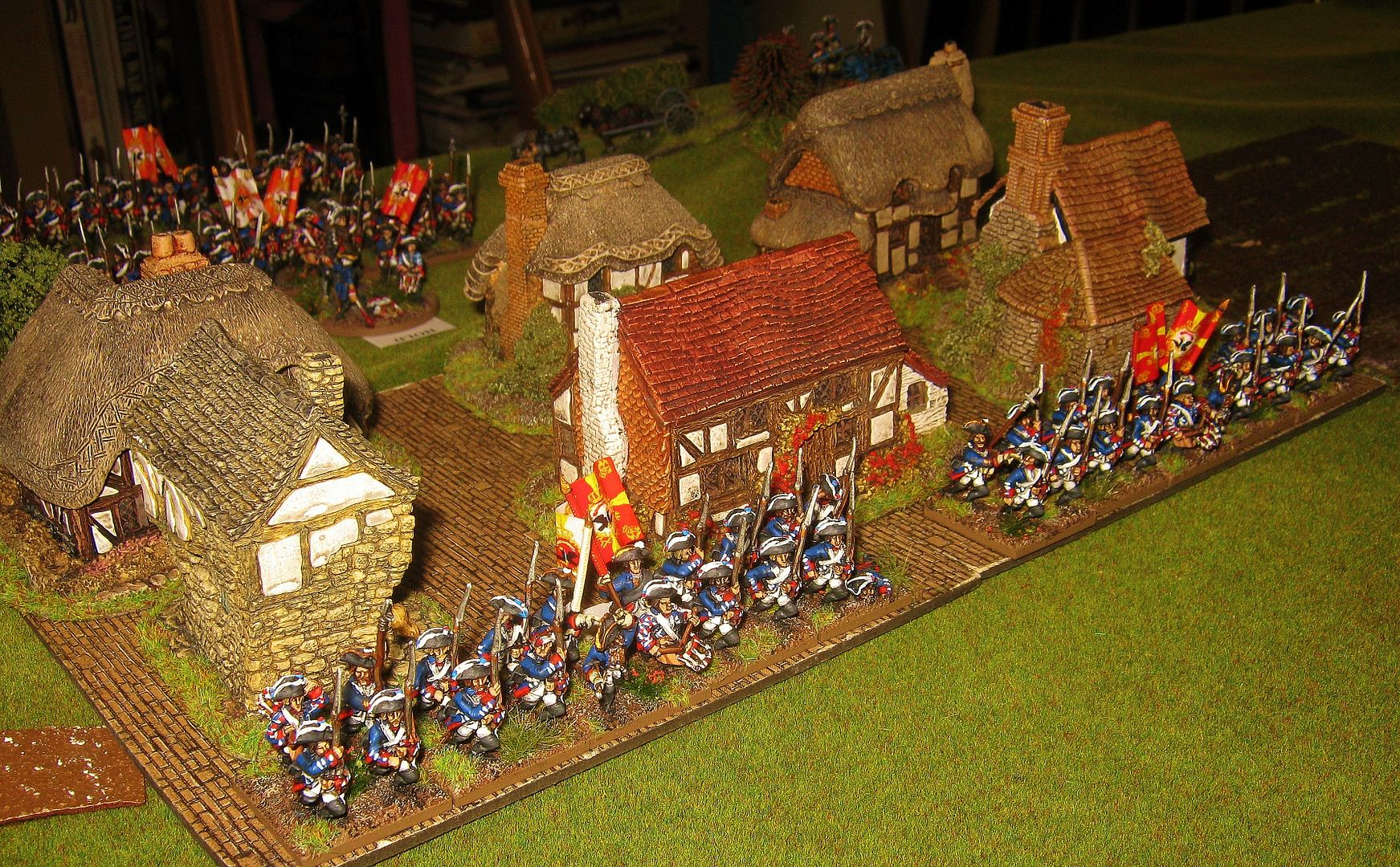 More Prussians in Support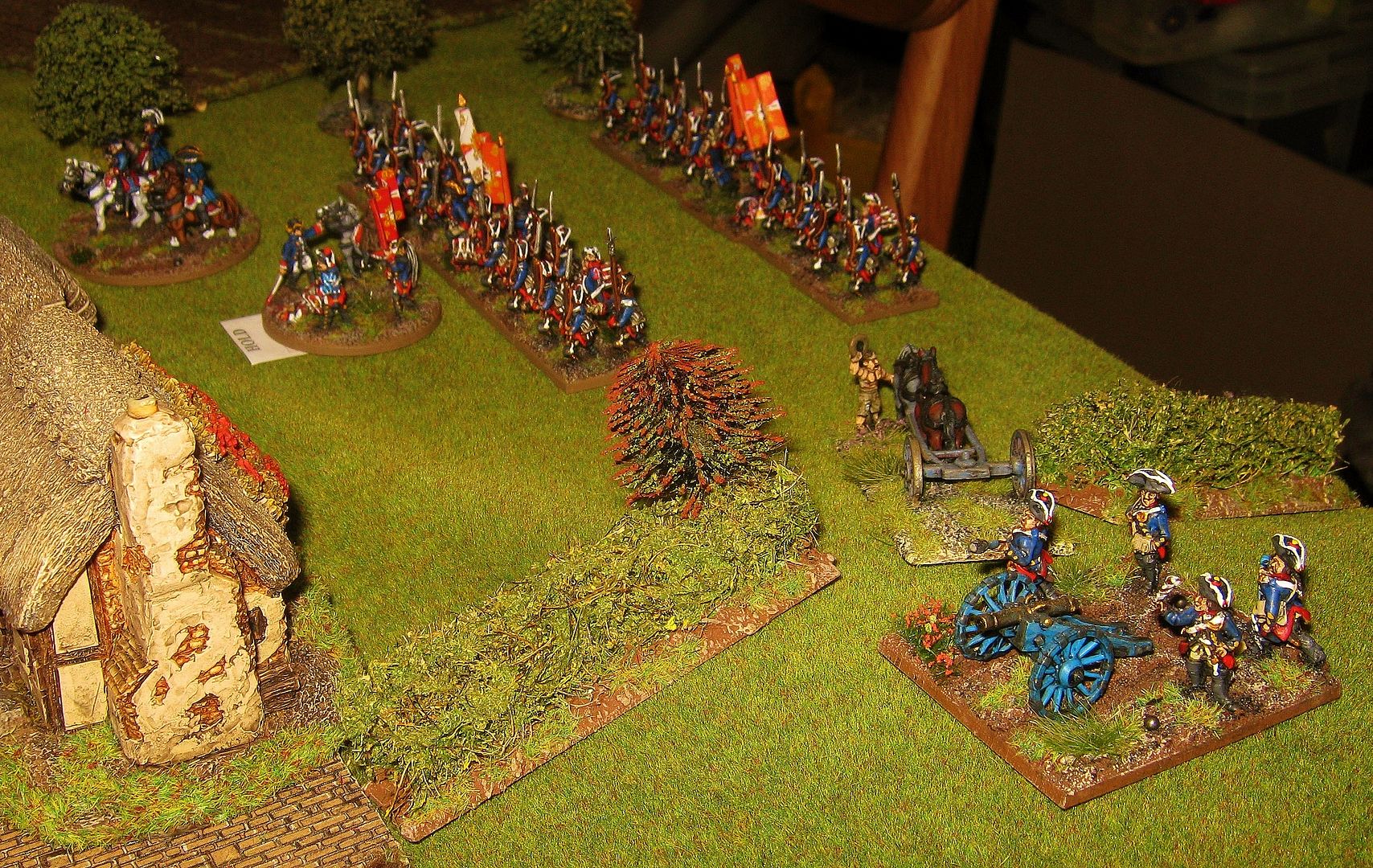 Prussians in Reserve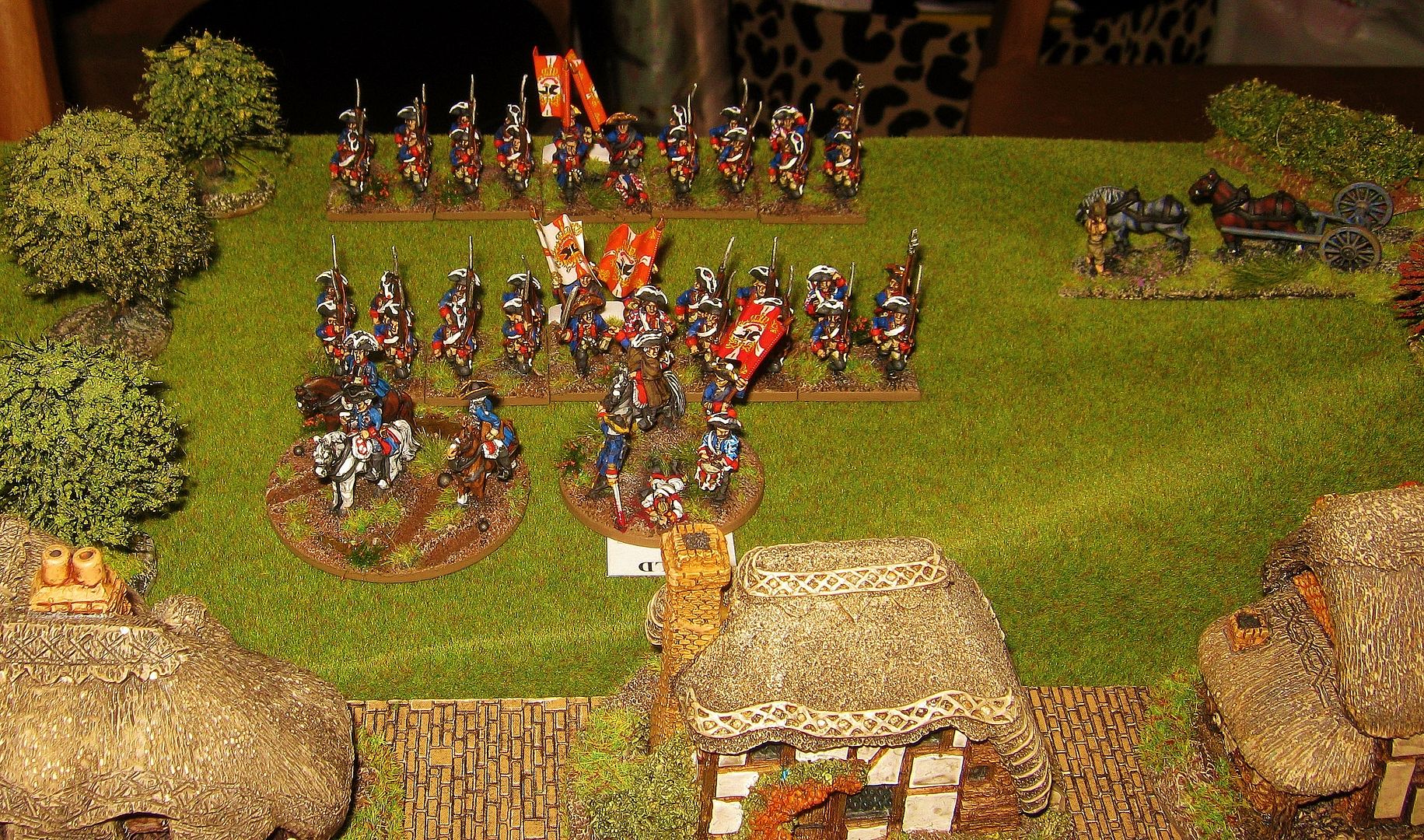 I sent my lead Russian musketeer regiment of two battalions down the road in the face of musketry from all directions.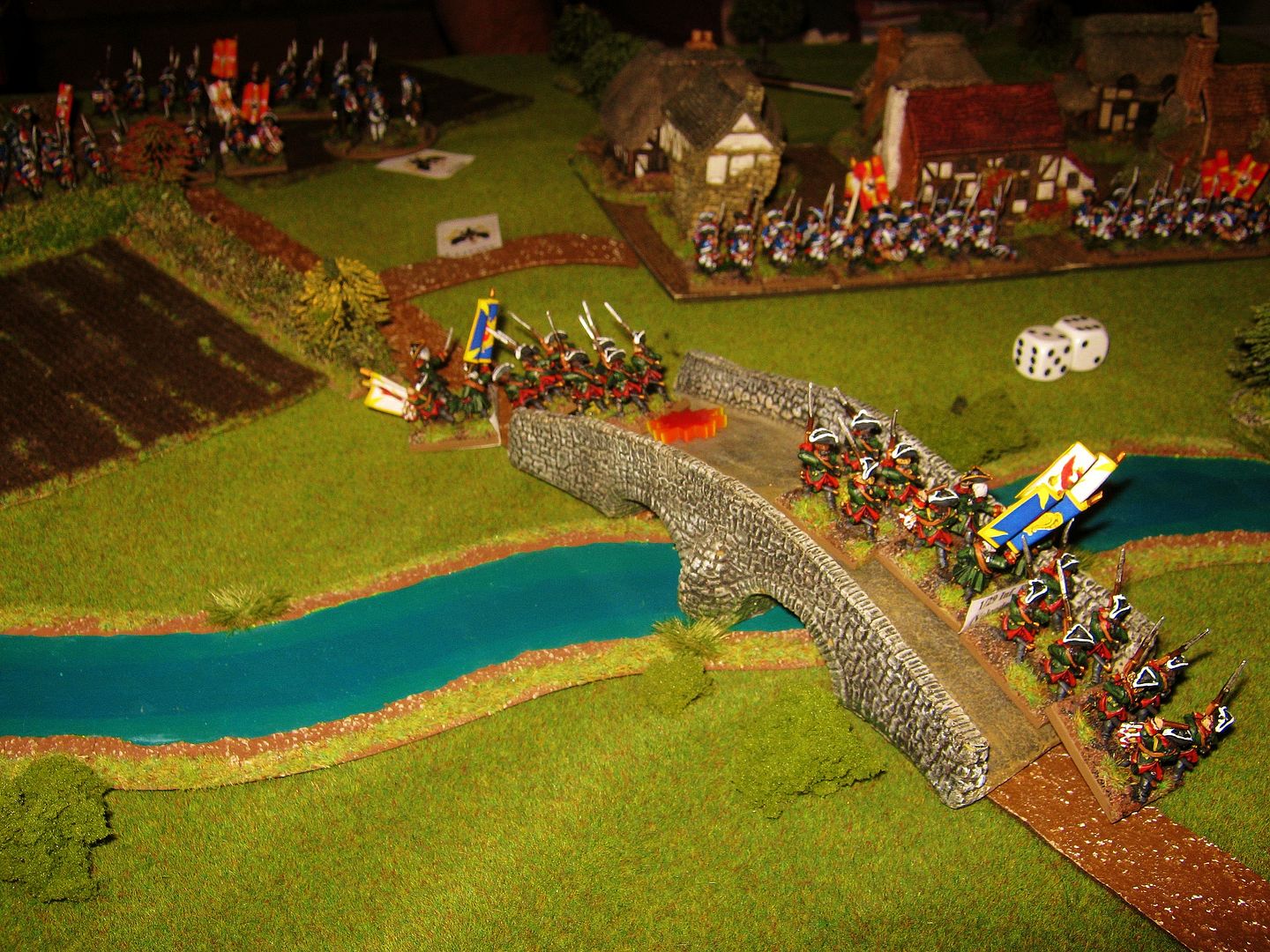 I'd learnt something from the first game with Derek and deployed a three gun battery of 6pdr on a hill to provide cover fire on the bridge defenders.
Eyeing up the advancing Prussians I successfully crossed the bridge and moved to the left to deploy.  BIG MISTAKE.  I then screened my guns which had been doing oh so good.  SILLY BOY.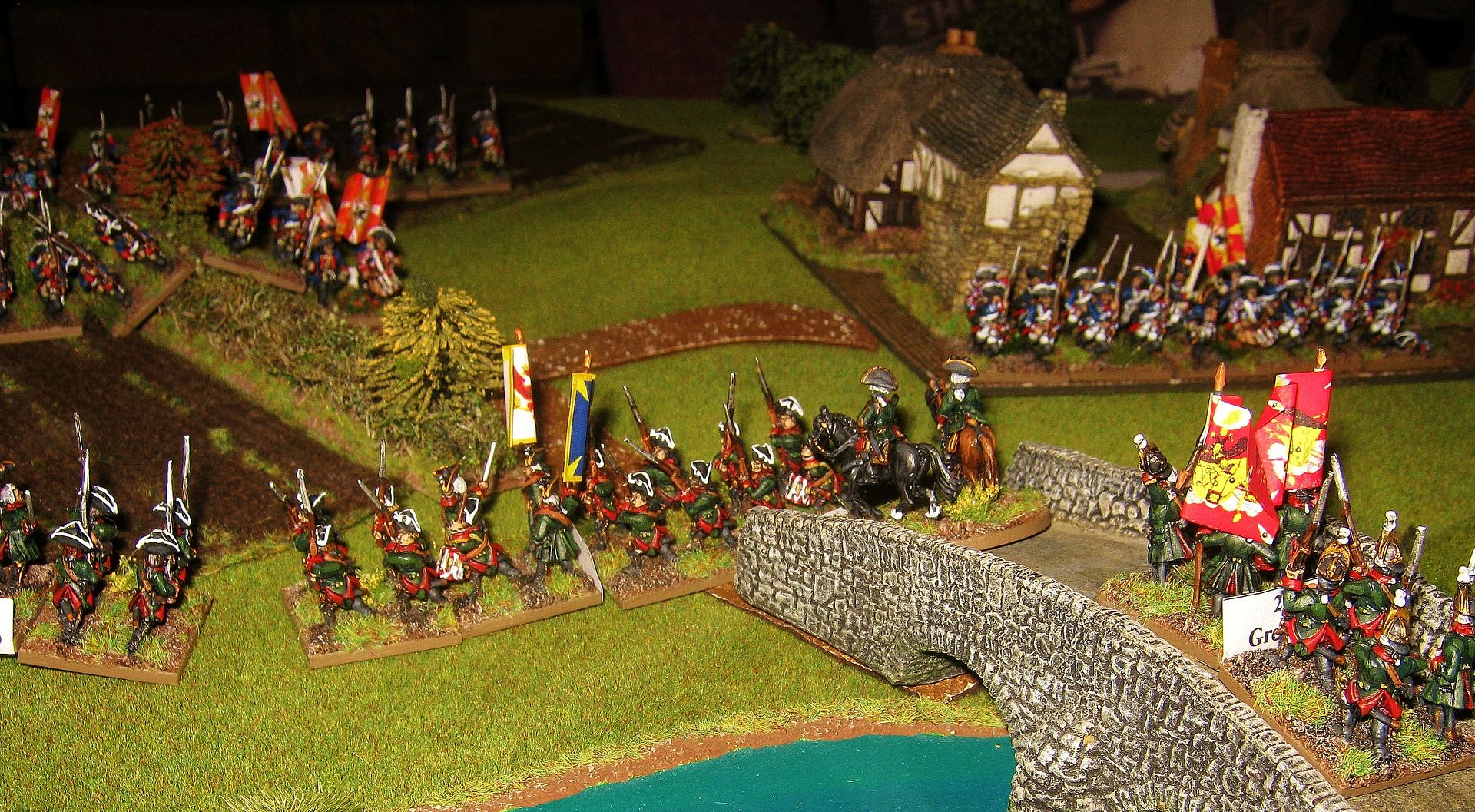 Prussian Hussars arrived on table and took up a flank position.  They had to keep testing Brigade morale as the other 50% of their Brigade,the Dragoons had already been dispersed.  My Russian musketeers having taken 25% losses remarkably were actually outshooting the Prussian infantry at this point.  Wary of the Hussars, who were on assault orers, as a spoiling attack I decided to assault the Prussian infantry first and declared a charge.  Alan however, launched an Opportunity charge with his Hussars which took the phase from me and caught me before I could launch my own charge.  He caused a retreat result and inflicted 12 casualties (1 per 1) and wiped my unit out.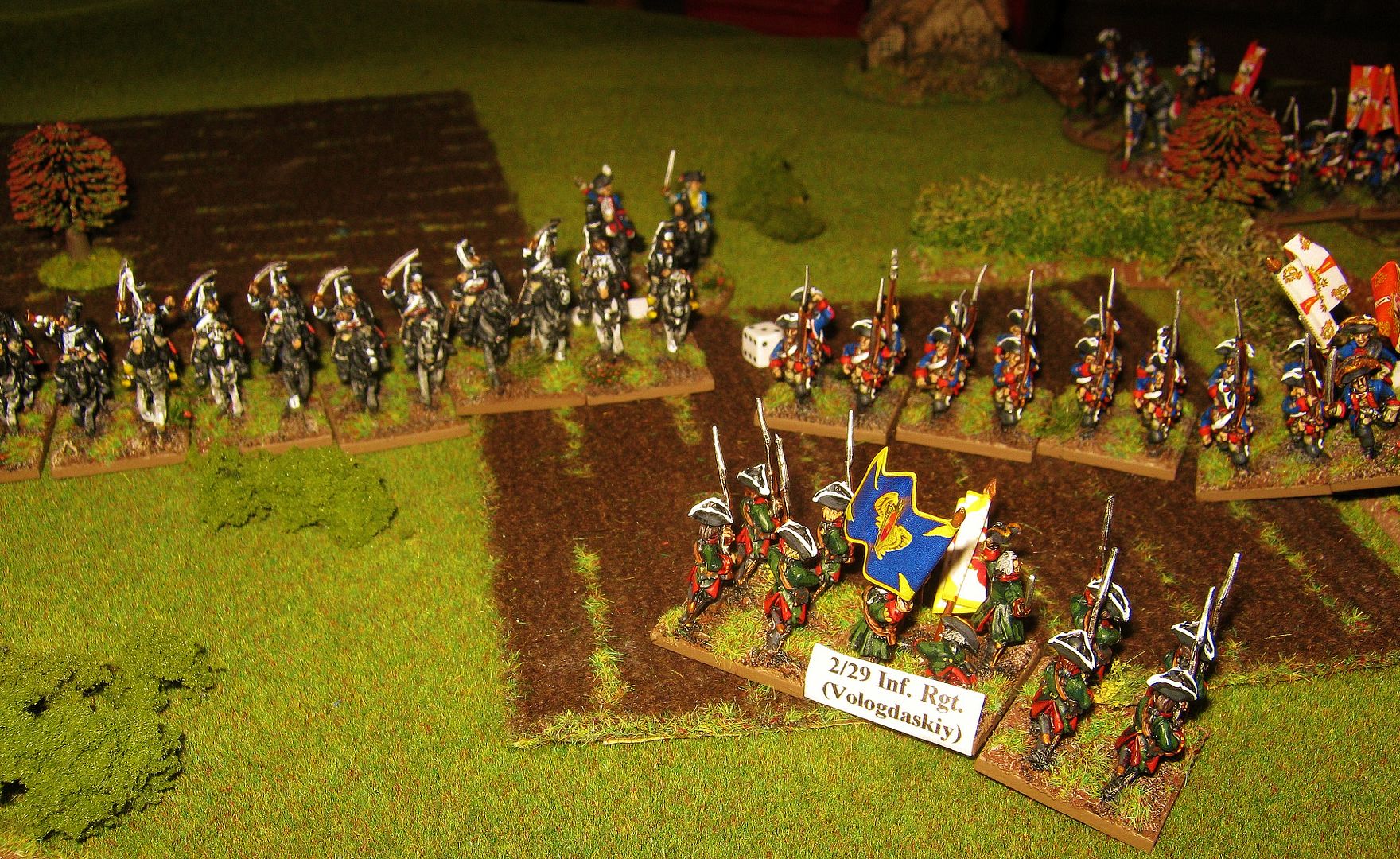 My second battalion of musketeers took one look at their comrades being cut down and then suffered two double sixes in a row from Alan's infantry fire.  OUCH.  They faltered on the bridge initially then routed back into the Grenadiers behind.  Two Generals were hit as a result.  The Brigadier temporarily was down for a turn and the C-in-C's adjutant was hit in the command party..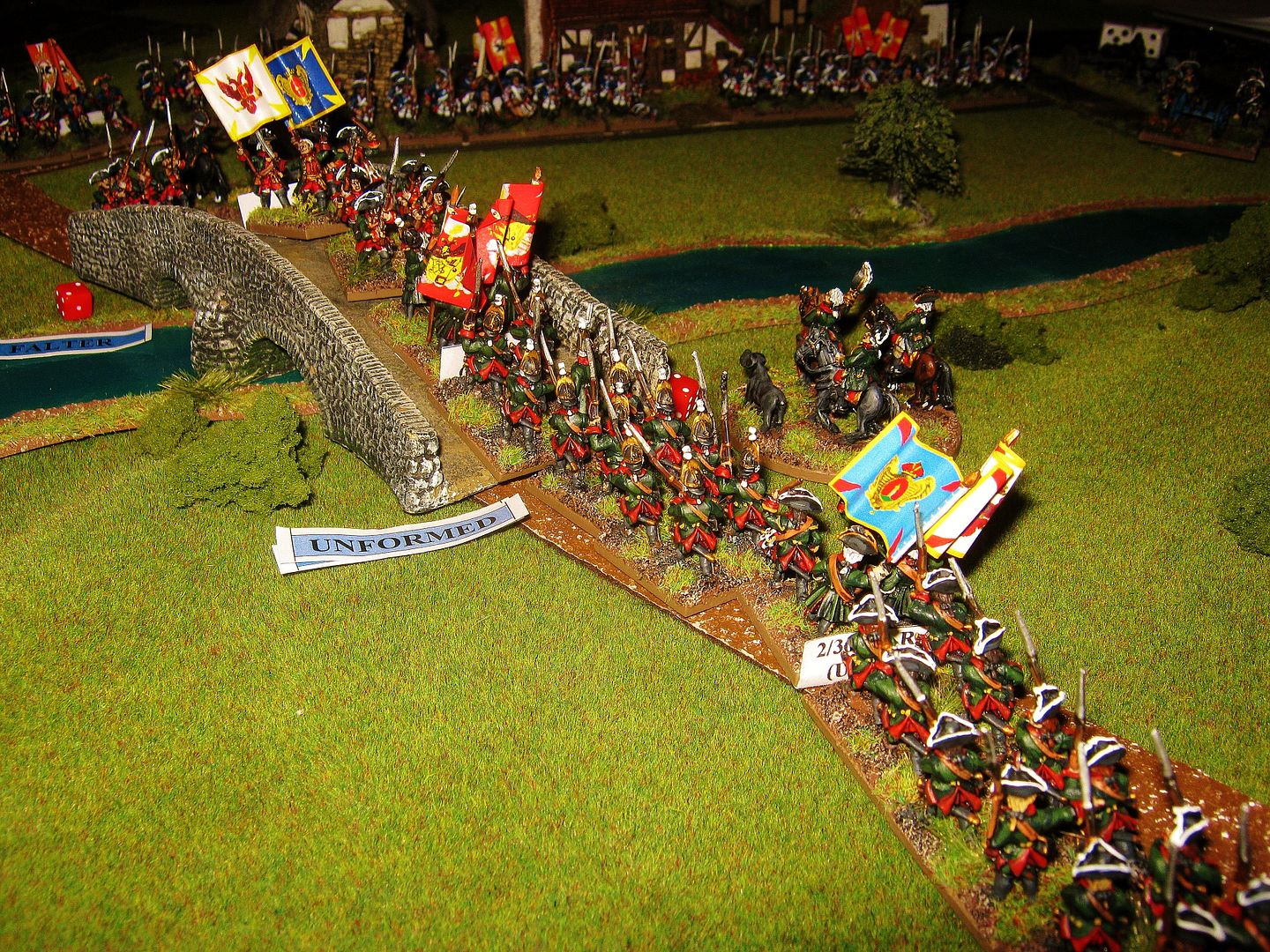 Three successive shots in a row Alan threw double one for his gun.  We play the low on ammo optional rule.  Unbelievable.  I had to take a pic of this.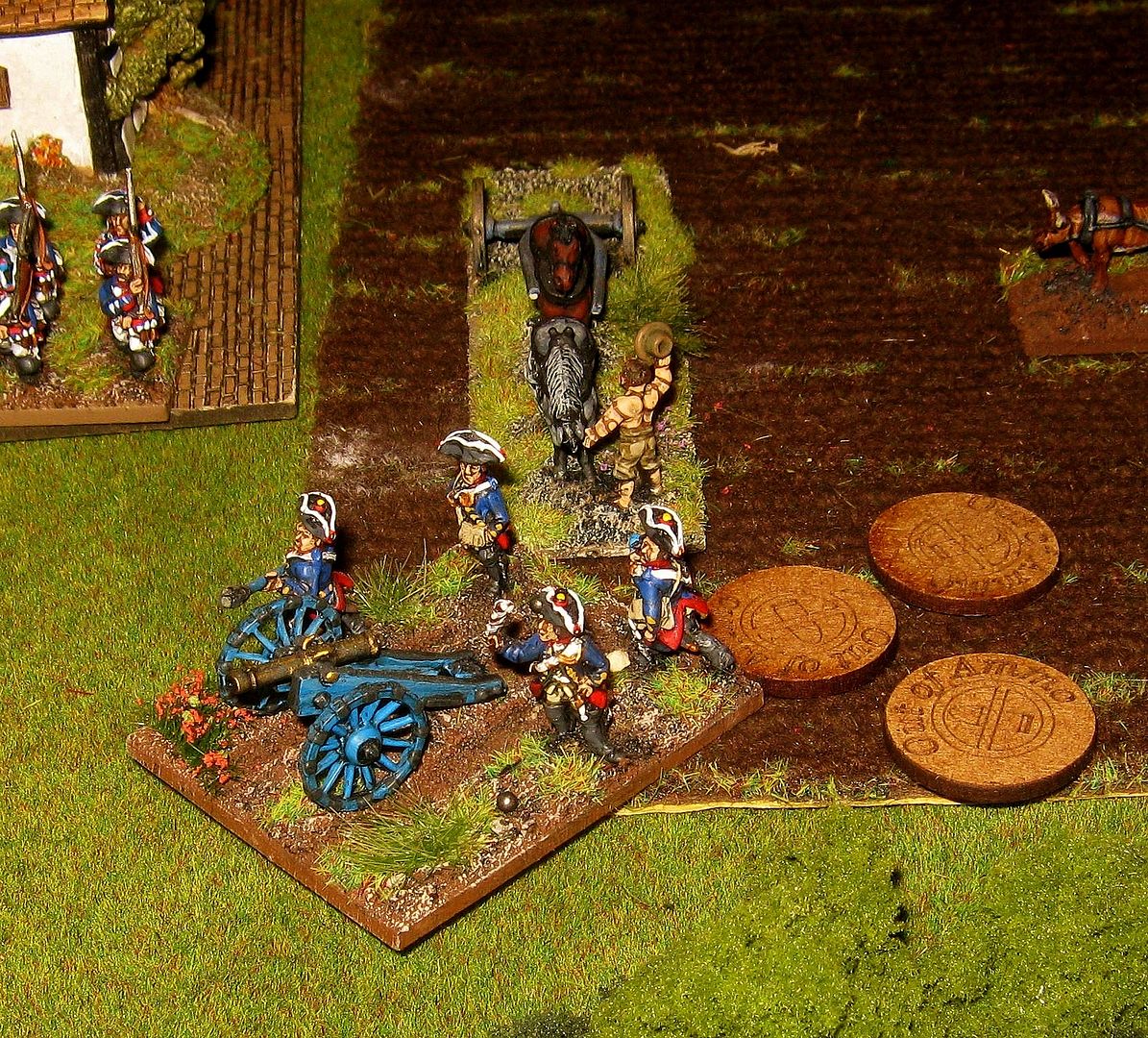 It got even uglier.  My Grenadiers had to assault to clear room an locked bayonets in a column of companies with the Prussians.  The Grenadiers lost heavily and were pushed back.  Alan followed up immediately and then routed them.  The succeeding Brigade Morale test was failed and the Prussians were forced to retreat as it broke..  Victory for Alan.  A tough scrap with lots of drama as to be expected with DKK.  Really, really good fun.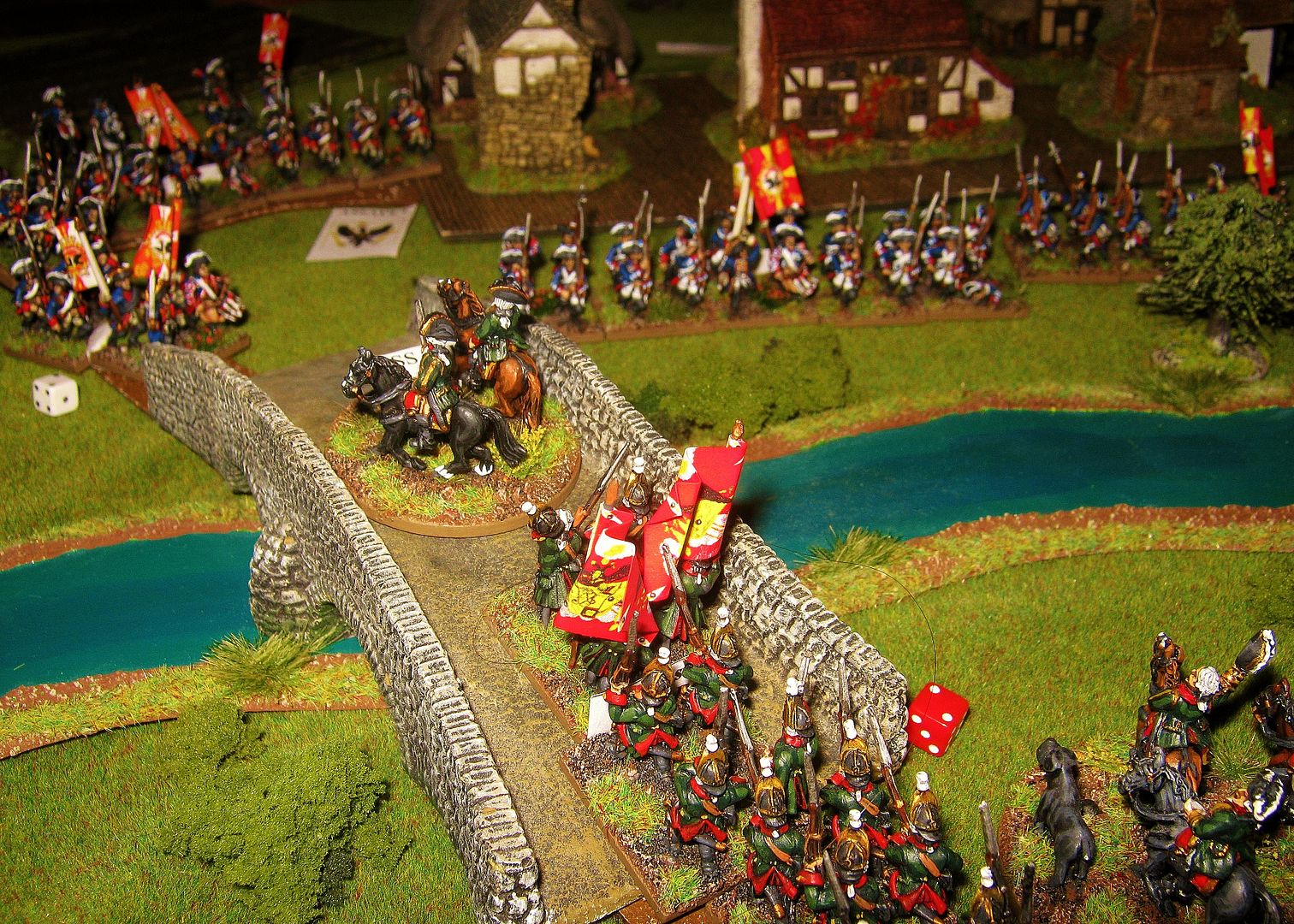 Cheers,
Kev