General de Division
Posts: 1,971
CEDAR MOUNTAIN WALKTHROUGH
Pending the release of Pickett's Charge rules in the next few weeks here's an opportunity to walk-through the rules as a divisional sized action is played out.

The scenario is Cedar Mountain (or Cedar Run) August 1862 - where Major General Nathaniel Banks has been ordered against the Confederate forces, under Jackson, striking towards the Orange and Alexandria railroads.
The Federal force consists of six brigades, five infantry brigades (Crawford, Gordon, Geary, and Prince & Green) and one of artillery; all of these are classed as Regulars. One of the infantry brigades, Gordon starts in Reserve and cannot be deployed until Turn 4. Banks' objective is to defeat Jackson in detail before the Confederate general can regroup his forces strung out on the march.
The Confederates under Major General Thomas Jackson oppose Banks with a larger command but it has been badly held up on the march and out manoeuvred by the Union cavalry, thus only four confederate brigades are initially available, (Garnett, Taliaferro, Early and the artillery reserve), this will rise to six on Turns 5 and 6 when Thomas and Branche's brigades arrival on table via the Culpeper road. The confederates have another two possible brigades that may arrive from Turn 10 onwards; these are the commands of Trimble and Forno, marching via the northern slopes of Cedar Mountain. All confederate brigades are classed as regulars though there are many small regiments to represent the tired nature of these troops.

Battle Plans. As we are following a historical(-ish) scenario Banks elects to immediately attack on his right using Prince and Crawford's brigades covered by the artillery as they advance. Jackson decides his plan will be to hold any Union advance until he has at least two more brigades on table and then launch a counter-attack. Players now deploy their respective brigades, this is done secretly and players can used blinds is they wish. Brigade deployment is important as brigades may not shift from their position in the battle line unless successfully ordered to do so by the C-in-C.
Command, Control & Staff Officers: The key to command and control in Pickett's Charge rules are ″Staff Officers″.  Staff Officers represent the C-in-C's physical ability to influence the battle - how he manages his battle plan, maintains his brigade's momentum, keeps the initiative and ultimately wins the battle! Staff Officers are the key to command and control in the game. Each brigade in the player's command will provide the C-in-C with one potential Staff Officer. So Banks initially starts with five Staff Officers which will rise to six once Gordon arrives on table. Jackson however only has four available brigades and so starts with just four Staff Officers, again this will rise by one Staff Officer for each reinforcing brigade.
At the beginning of each turn both players roll 1D6 per Staff Officer to ascertain how many they will have available for tasking this turn. This represents a fluctuating command ability, as your C-in-C cannot guarantee receiving all his Staff Officers each turn and therefore must plan carefully to ensure his battle plan is not overly-complex or heavily reliant upon staff officers. What actually do Staff Officers do? Staff Officers carry out command tasks on behalf of the C-in-C, these can be brigade attachment, provides a brigade with a reroll should it go hesitant, (i.e. the C-in-C is making sure that brigade gets moving! Hesitant status is explained below.), ordering artillery assault fire (used to initiate a bombardment by your brigade artillery batteries), order brigades to Double Quick, (so increase their movement), or sow confusion into the ranks of the enemy by ordering spies and "deserters" to influence the command roll of an opposing brigade! The differing command tasks will become clear as the game progresses.
The next aspect of command and control is the Brigade Command Roll. In the command phase and after staff officer postings, the players roll one die for each brigade to ascertain if the brigade is currently obeying orders or is hesitant. When a brigade is obeying orders the player may maneuver the brigade as he sees fit, in accordance with his battle plan. When a brigade fails its individual command roll the brigadier and his brigade is considered Hesitant. The brigadier and his officers are perhaps intimidated or uncertain of events, slow to react to orders or simply reluctant to obey orders! The brigade is then marked with a hesitant marker. Hesitant is only a temporary status but imposes restrictions upon movement, with no charges or forward movement permitted, while firing is restricted to effective range or less. All hesitant markers are removed at the end of each turn. This is a simple game mechanism to introduce friction into the command process - so players will not always be able to do exactly as they please with all their brigades every turn. Brigades can have worse command situations if they have suffered broken or routed units in the turn, but more on this later.
The Game Turn: Each turn is divided into four separate phases; these are Command & Initiative, Charges, Movement and Firing. The Command and Initiative phase is simultaneous while the others are each taken alternatively. In this way players are continually involved throughout the game turn without having to wait while one player completes all his turns actions.
Battle Commences Turn 1: Command Phase. So, Turn 1 begins, both players make their Staff Officer availability rolls, on a roll of 3 to 6  Staff Officers are available, on a roll of 1 or 2 they are not available. Thus players will see fluctuating command ability from turn to turn. (This can be modified by better or worse commanders but both Banks and Jackson have been graded as West Pointers or average for this scenario.) After the dice rolls Banks gains a possible four out of six and Jackson gains three out of his possible four. Banks with the offensive in mind immediately posts one Staff Officer to Prince as a brigade attachment, (this provides a reroll to Princes command roll should he fail to advance as ordered!). Banks determines that Crawford will lead the attack and needs to advance quickly thus issues two Staff Officers for a Double Quick order and another staff officer on brigade attachment. (This could be something like this from General Banks: ″ADC to me! Now captain please take these orders to General Crawford deployed on the right, tell him that he is to lead the advance with his brigade with all haste and close upon the enemy line. And captain, please ensure that the good general fully acknowledges my orders and that I shall be watching his progress!″  Off the Staff Officers goes at the gallop!) Initially Banks did toy with the idea that he should order an artillery assault first off to hopefully negate the confederate massed guns, but decided upon speed of advance as the preferred option. Jackson has issued encouragement to Taliffero with a brigade attachment as he needs brigades to move up into the battle line quickly, while he uses his last two Staff Officers to engage in counter-battery assault fire upon the Union gun line to try and damage the numerous federal guns.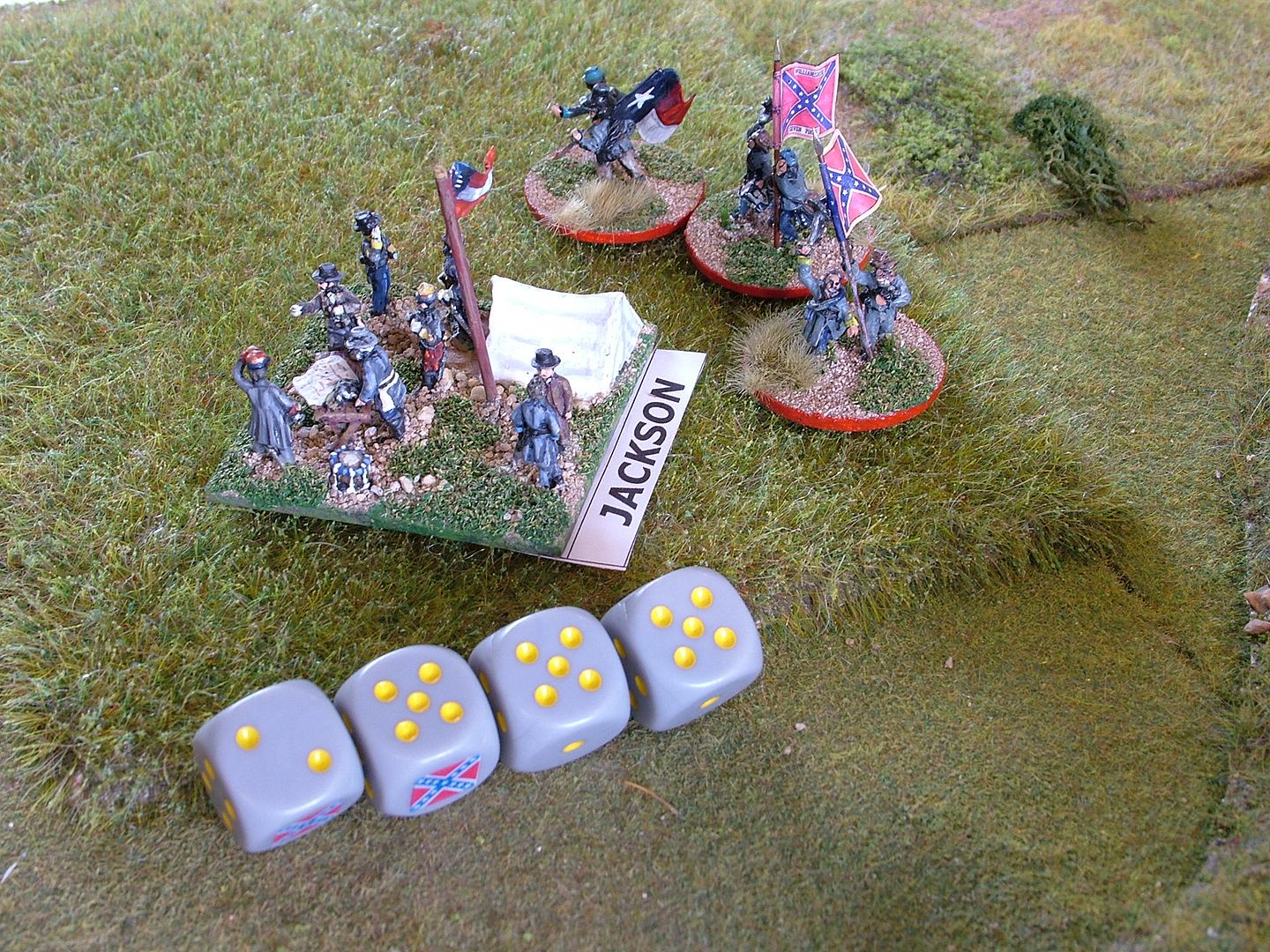 Now to the command rolls, each player rolls one D6 ( a normal six sided die) for each brigade in play, (but not those held in reserve or off table). Banks starts off poorly with both his second line brigades (Green and Geary) rolling 2's thus becoming hesitant. Disaster strikes when he rolls a 1 for Crawford but the brigade attachment reroll sees a 6 - fortunately his command effort is working. All remaining brigades obey orders, thus he has just two hesitant brigades. Jackson rolls for his brigades and all are successful until he finally rolls for Garnett holding the far left, who goes hesitant, fortunately with no enemy yet in sight this shouldn't impact too greatly. Both players now roll 2D6 for initiative, it's a simple highest score wins modified with a minus one for each hesitant (or worse) brigade, so Banks rolls 8, loses two for his two hesitant brigades resulting in a score of 6, Jackson rolls a 5, loses one taking his score down to 4. Banks wins the initiative for this turn and immediately launches his attack by taking the first movement phase.
Turn 1 Movement Phase: Crawford successfully obeying orders and in receipt of  a Double Quick order moves off at the Double Quick, (this permits a standard move plus a variable extra amount determined by four D6), this permits Crawford's regiments to speedily reach the far edge of the woods opposite Garnett's men. However as the regiments have entered rough terrain they must each test for formation and all bar one are successful in maintaining order. Prince also advances but at the standard movement rate, as his men cross the rail fence they also require formation tests, unfortunately two out of his three close order regiments are disordered. Meanwhile the only confederate moves see Taliaferro move up to take a position in-between the brigades of Early and Garnett.
Turn 1 Fire Phase: With no infantry fire the artillery open up, the two batteries massed on the Union left engage in counter-battery against the massed confederate guns and inflict some damage. (Casualties in the game represent a combination of both morale and battle fatigue and dead and wounded.) The confederate guns now reply using assault fire, (i.e. ordered to double their efforts in rapid fire against the enemy). This permits a standard 2D6 fire with modifiers plus two extra casualty dice per battery, (casualty dice very simply inflicting casualties on a score of 4, 5 or 6 per die.). However the down side to assault fire is that any fire that results in a fatigue casualty (a poor fire result of 3 or less from our 2D6 roll) is doubled if using assault fire. One confederate battery rolls a score of three and so suffers two fatigue casualties! Players will need to be careful of indiscriminate artillery fire or they could well wear out their artillery rather quickly!
That's it for Turn 1. Hesitant markers are now removed. Players will also note that there is no morale phase, occasionally units will be required to test morale as a result of accurate fire but this is carried out immediately in this phase. All other morale is carried out through the command rolls in the command phase. We'll see how this works in the coming turns.
Turn 2. Command Phase: Banks has just two Staff Officers available, while Jackson has maintained three again. With only two Staff Officer Banks is now in a difficult position, he had wished to order his artillery onto assault fire to suppress the confederate guns, but he also needs to ensure that Crawford and Gordon keep moving, (staff officers only remain on a tasking for one turn, so if general wishes to keep up command pressure they need to maintain staff officer postings over the turns, but of course you can't guarantee how many you'll get!) Banks opts for the more secure option of a brigade attachment to both his infantry brigades for this turn. Hopefully he'll be able to issue orders to the artillery over the next few turns. Jackson is much better off; he sets the same command tactics as last turn, one to Taliaferro to ensure he joins the line and employs the remaining two to his guns ordered to assault fire again and hopefully win the artillery duel. Now Banks completes his command rolls and all brigades bar Green and the artillery obey orders, for Jackson all bar Garnett obey orders. This is not a good turn for Banks as due to artillery brigade going hesitant they will not be able to engage in long range counter-battery fire against the confederates. Nonetheless despite these setbacks Banks wins the initiative again so take the first phases of Turn 2.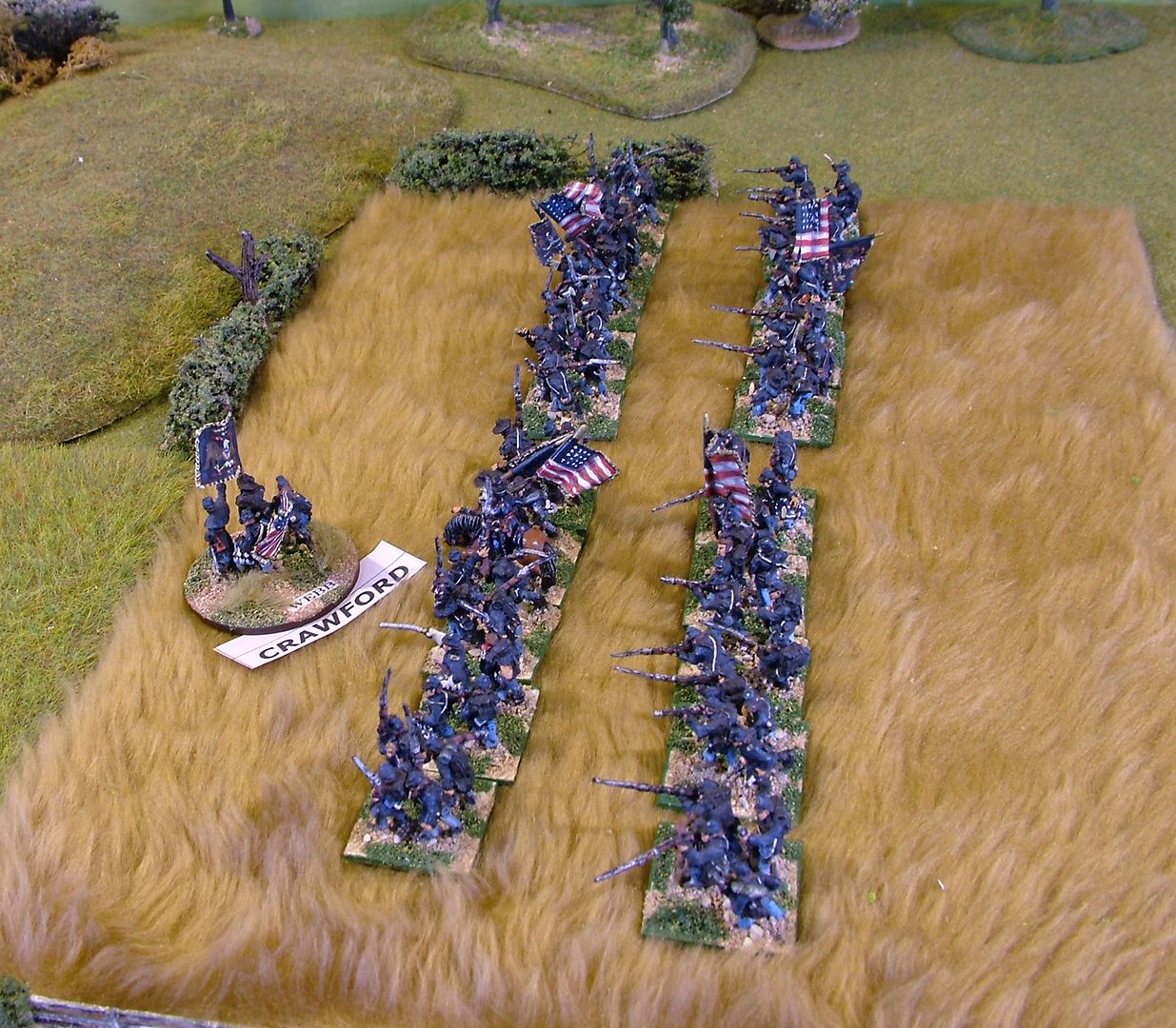 Turn 2 Movement Phase: Crawford forms up his unformed regiment of the edge of the woods before he advances across the open against Garnett. Prince however decides that he cannot form up in the open so continues forward to a rise in the ground where he will form up next turn in safety. The confederates see Taliaferro's brigades deploy from column of march into line of battle and correctly take his place in divisional line.
Turn 2 Fire Phase: This is very much one sided as apart from a few skirmish and sharpshooter shots the confederate artillery opens up again on the federal batteries. Jacksons gunners roll well and inflict more casualties upon the hapless union guns bringing one battery to a total of four casualties - meaning it has reached the 1st casualty stage and will suffer a -1 in all future firing and morale rolls. So ends Turn 2.
Turn 3. Command Phase: Banks now needs to a get a grip of his command and rolls his six dice with some anxiety -  and gains four out of six, not perfect but that will do. Jackson only has two staff officers available. Banks now throws all his command effort into his artillery issuing  an artillery assault order across the entire brigade - he'll need to drive off or at least damage that confederate artillery or his infantry will soon be targeted. His final Staff Officer is used to ensure that Crawford keeps moving. Jackson decides that as the enemy infantry are closing in he must get both Garnett and Taliaferro engage the enemy so receive a staff officer each. Both sides roll for command rolls and despite Garnett initially going Hesitant the command reroll means he's obeying orders at last! The only other hesitant brigade on the confederate side is Early. Banks only has Greene hesitant and thus manages to win the initiative again, they actually drew this turn but in the event of a draw the previous winner maintains the initiative.
Turn 3 Movement Phase: Crawford is off and over the stonewall into the wheat-field closing in on Garnett's men, his formation rolls are excellent and all pass their formation tests - Crawford brigade is advancing in good order! Prince holds his ground while he forms up behind his rise. The confederates simply straighten their lines and await the Federal onslaught!

Turn 3 Fire Phase: The Union guns now thunder into action and inflict significant damage upon the confederate guns though not enough to drive any away from the gun line. The federals also ensure that they bring up their reserve battery so it can join the firing line next turn. Crawford forbids his men from firing as they have moved and Garnett's men are both at long range and in cover, so his men are more likely to lose their fire discipline than inflict casualties. (If a unit fires and scores a low roll the regiment this deemed to have lost fire discipline and will fire at a disadvantage in future turns unless it spends a turn stationery to recover its formation and discipline.) Garnett's men now open fire at long range and inflict reasonable damage upon Crawford regiments, one volley requiring a ″See the Elephant ″ morale test. As Crawford is attached to this regiment they test as the next higher troop grade, so they now test as Veterans and pass their morale test. With no other significant firing Turn 3 ends, hesitant markers are removed and Turn 4 and possible reinforcements await.
Turn 4. Command Phase: Banks gains three Staff Officers while Jackson just one! Banks has a conflicting command options this turn. Gordon is now available to be released from reserve - so does he ensure that Gordon is brought into the line or does he concentrate on ensuring that Prince and Crawford keep up their assault? As its crunch time for his forward brigades he opts for the later and both Prince and Crawford receive a brigade attachment along with the artillery. Jackson with just one staff officer decided that Garnett must hold the line so receives the one staff officer as a brigade attachment. (This is because hesitant brigades are less steady in the face of enemy charges.) Now to the command rolls, Banks has success all the way along the line - that means Crawford can charge. Jackson has a disaster as not only do the artillery and Early go hesitant but so does Garnett! The brigade attachment staff officer is used to reroll the command die but yet more bad luck, a 1 is rolled - a second hesitant result! Now with three hesitant brigades Jackson loses the initiative again.
Turn 4 Charge Phase: Crawford now launches his line forward; two regiments on the left lead by Garnett go forward as a supported charge and one regiment on the right goes it alone. (The final regiment has taken time to reform so is no longer within support distance.) The lone charge advances into the face of a lethal volley inflicting three casualties and requiring a "″See the Elephant ″ test. The regiment passes but is sounded whipped in the charge combat forcing it to retire into cover where it halts in disorder. The charge lead by Crawford fairs better, the volleys from the defending two confederate regiments are poor and inflict minimal casualties, so both sides one roll their 2D6 charge dice hoping for high scores. (There are all the usual modifiers in the charge combat procedure such as troop grading, if unformed, casualty state, etc.) Crawford rolls 5 and 3 - scoring 8. He has no modifiers so stays there. Garnett is in trouble the defending regiment is still unformed due its previous manoeuvrings in the woods, also the brigade is hesitant - all negative modifiers, although Garnett's presence does raise their troop grade from Regular to Veteran. Garnett rolls a poor 2 and 2 - scoring 4. Both units have supports (any fellow regiment within close distance and not opposed by other enemy units can support to the flank or rear. A supporting unit provides a D6 reroll - but the downside is you must accept the final score! If the idea that a support could be a disadvantage disconcerts you, consider the possibility of supports blundering into the lead unit or mistakenly firing at the lead charge unit!). The attacker chooses first so Crawford decides to reroll his 3 and scores a satisfying 5 bringing his score up to 10. Garnett clearly rerolls one of this dice now also scoring a 5 bring his score up to 7. Nonetheless Garnett has lost his men won't stand and they break taking their supports with them. Crawford can now move up and take the position. That's it for the charge phase and Garnett and Crawford as any units involved in the charge phase takes no further part in the remaining turn.
Turn 4 Movement Phase: Banks seizes the moment and pushes Geary forward to support Prince who now fully reformed moves up to engage Taliaferro's men. Jackson can do very little other than simply hold on long enough for his supports to arrive.
Turn 4 Fire Phase: Prince and Taliaferro engage in some long range and fairly ineffective musketry while the confederate guns fall silent (as they are hesitant) and receive more casualties from the now reinforced Union gun line, even though one of the Union batteries suffers a fatigue casualty in the process. Both sides gun lines are now becoming worn, Banks hopes that his fresh battery can win this particular aspect of the battle. So ends Turn 4, hesitant markers are removed and Jackson gathers in his Staff Officer availability dice hoping for a change to the fortunes of war!
Turn 5
Command Phase: Both C-in-Cs gain four staff officers each. Banks spreads his command effort across his line issuing brigade attachments to Crawford, Prince and Geary. His uses his last Staff Officer to release Gordon from reserve and form his second line, should the initial attack fail. (When a brigade is on reserve a staff officer must be used to release the brigade. If the brigade fails to obeys orders its is considered hesitant and still on a reserve order.) Jackson can see defeat staring him in the face so decided that Thomas' brigade must be move up with all haste. Therefore he uses all four Staff Officers to bring Thomas into the battle in support of Garnett and Taliaferro. One staff officer is used for a brigade attachment, one to release them from reserve and two more to issue a Double Quick order. The rest of Jacksons line will just have to hold on their own. Brigade command rolls go well for Banks with only Green's brigade hesitant, (just as well he's only holding the uncommitted left flank as he's been hesitant for most of the game!) Jackson has all brigades obey orders, except of course Garnett who goes hesitant! This time Jackson actually wins the initiative but as he has no charges hands the charge phase over to the federals. Crawford could charge again but if he did so he would be flanked by both Garnett's remaining regiments and Taliaferro's flank guard - that would be a significant charge negative modifier, so wisely decides against charging, in the movement phase he'll redeploy and regroup his brigade.
Prince however elects to charge Taliaferro's brigade. He has three regiments available (as sharpshooters can only charge other sharpshooters hence left out), so elects to lead a single regiment on the right himself and a supported charge on the left. Prince's charge fails to press home as his men fall into disorder, halt and engage in close range volley fire. However his massed regiments do better and both sides use their support rerolls to obtain equal scores of 7. A draw in charge combat results in melee (this is the only result that a melee arises for infantry charges). The melee is resolved immediately using a simple one casualty die for each base system, including supports. Prince has a total of 8 bases (two regiments of four bases each) but Taliaferro only has 7 bases, (one regiment is just three bases to represent the tired nature of the confederate units). So the federals roll 8 casualty dice and score a glorious seven hits! (Hitting on scores of 4 to 6.) The confederates roll 7 dice and only manage 2 hits - they are whipped! Both regiments beat a hasty retreat leaving Prince's men in possession of the field. Now we see the impact of morale upon a brigade which will immediately drop to the negative command status of "Falter" if it has two or more units whipped (that's broken or retreating) or a single unit has routed. As Taliaferro now has two whipped regiments his brigade command status drops to Falter - and as such will be harder to bring back under command next turn. Jackson has his work cut out!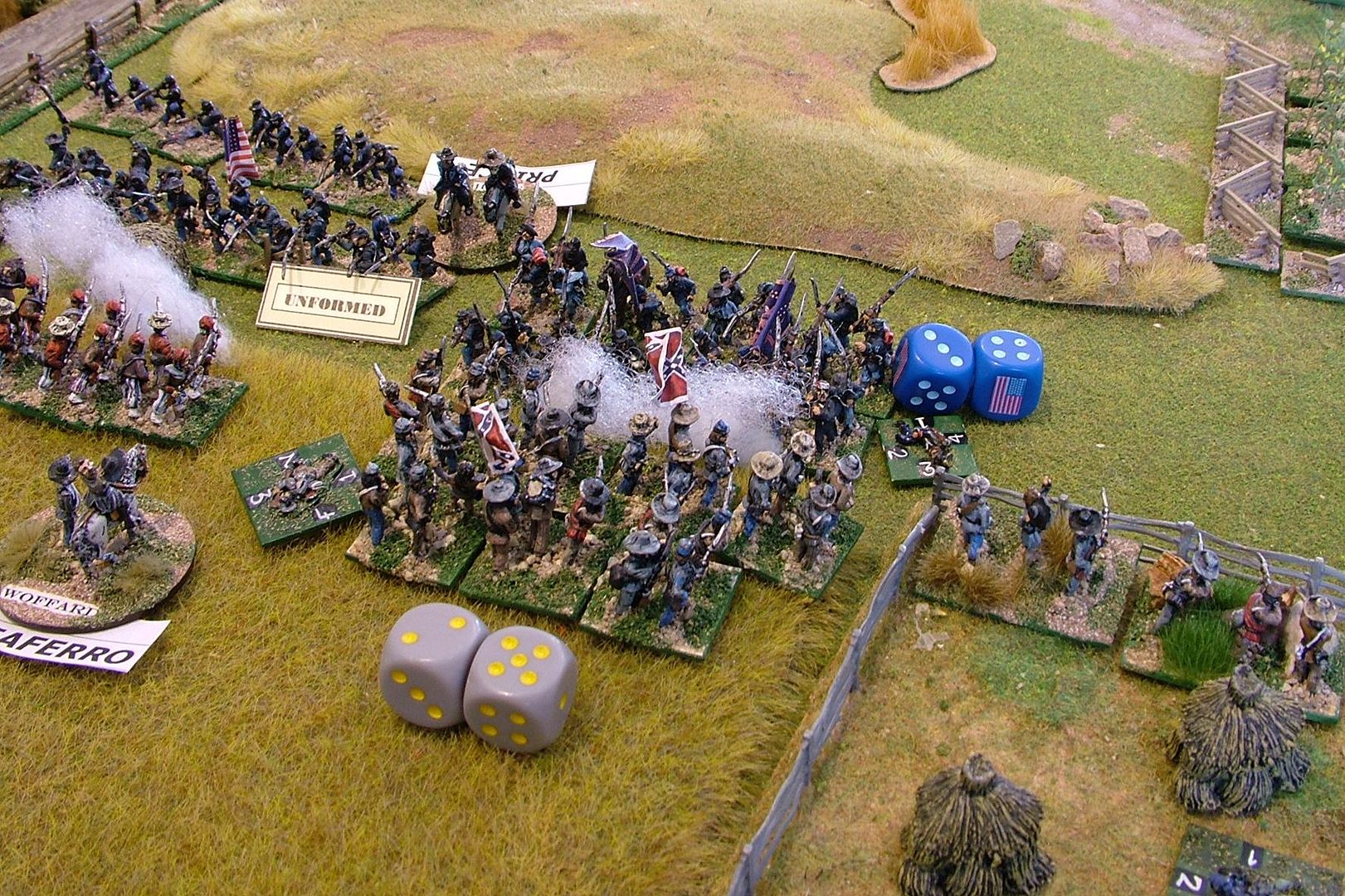 Turn 5 Movement Phase: With Thomas' brigade at last on table he deploys quickly using the Double Quick extra movement to just behind Garnett and Taliaferro and so shore up the crumbling confederate line. Early is now brought forward as well, echeloning slightly to the left to link up with Taliaferro men and hopefully prevent the federals from gaining any more ground. Garnett simply pulls back his remaining regiments to form a new line just in front of Thomas' newly arrive troops. Banks, sensing victory,  keeps Geary moving up to support Prince while Gordon moves up to form the final reserve.
Turn 5 Fire Phase: Other then the artillery duel there is limited firing this turn as many regiments were engaged in the charge phase. So there ends Turn 5, the hesitant markers are removed but the Falter marker on Taliaferro's brigade remains in play. Next turn Jackson will lose a staff officer to shore up his divisional morale, (this is a mandatory posting - each faltering brigade effectively drains command ability). In addition Taliaferro's brigade command roll will be made against separate command table that could result in his brigade obeying orders, retiring or breaking up completely!
We'll leave the game here as hopefully most of the rules mechanisms have had at least some explanation. If you have any question please just ask or come and see this game being played out at Colours and command a brigade or two yourself!

DB

Last Edited By: DCRBrown Aug 30 16 8:03 AM. Edited 3 times