General de Division
Posts: 1,970
As General d'Armee Napoleonic wargame rules have now moved to the publishing preparation stage its probably best to present an AAR to highlight the rules and mechanisms!
General d'Armee is set at both divisional and corps level and your "army" is commanded by a single general referred to as the C-in-C. This C-in-C will command a number of brigades, normally between five and eight, though players can field two or more divisions, even up to a corps or more if they wish to do so and have the time. Each brigade is in turn commanded by a brigadier, these brigadiers (under control of the players) will command the individual infantry battalions, cavalry regiments and artillery batteries. The standard tactical units in the game are the infantry battalion, cavalry squadrons or regiment and the artillery battery
Action at Belho
This fictitious engagement is set just before the Battle of Fuentes d'Ornoro, Spain 1811, as I generally feel that if one can crack the Peninsular war as a rule designer, you're on sound rules ground for the rest of the period. Each side has two divisions grouped into a small corps for this demonstration game.
So we have two historical Peninsular orders of battle pitted against each other. The British under the command of Picton, have just four small infantry brigades (under Kempt, Maitland, Sontag and Anson) and one cavalry brigade (Vivian). The French under the command of Loison, commands four infantry brigades (under Marchand, Mermet, Ferey and a confederation brigade) and two small cavalry brigades (under Ornano and Pajol). The British objective was to hold the French in the vicinity of the village of Belho and prevent them advancing any further towards Fuentes de Onoro, as this would reveal Wellington's main position. The French objective was to push the British back as quickly as possible thus allowing the main French army to move rapidly against Wellington's forces.
At the beginning of the game both C-in-Cs roll 2D6 for their respective ability. Picton achieved the Campaigner result, meaning he is an experienced officer and receives the normal one ADC per brigade to represent his command ability, giving him a potential five ADCs per turn. Whereas Loison rolled a very poor three, meaning he is a Blusterer, the lowest graded commander (or as we are in Spain, maybe a King Joseph appointee!), therefore he permanently loses one of his six ADCs to represent his lower ability level, thus also reducing him to a potential five ADCs per turn.
ADCs are the key to command and control in the game as they represent the C-in-C's command ability on the battlefield. They can be seen as a combination of the C-in-C's command ability, how he controls battle as well as the use of his staff and ADCs as physical messengers and organisers. The C-in-C's ability to control his division is achieved through the use of his "ADCs" sent out each turn in an attempt to bring command and control to the battlefield. However, there is a catch as there is no guarantee as to how many ADCs you will receive or even if your brigadiers will obey your commands!
At the beginning of each turn both players roll 1D6 per ADC to ascertain how many they will have available for taskings this turn. This represents a fluctuating command ability, as your C-in-C cannot guarantee receiving all his ADCs each turn and therefore must plan carefully to ensure his battle plan is not overly-complex or heavily reliant upon ADCs. What actually do ADCs do? ADCs carry out command tasks on behalf of the C-in-C, these can be brigade attachment, provides a brigade with a reroll should it go hesitant, (i.e. the C-in-C is making sure that brigade gets moving! Hesitant status is explained below.), ordering Artillery Assault Fire (used to initiate a bombardment by your artillery batteries), order Forwards to brigades, (so increase their movement), or enhance your skirmish capability by reinforcing your skirmish line with the Skirmishers tasking. The differing command tasks will become clear as the game progresses and also permits the distinctive Napoleonic battle phases to develop. So, you can see a distinct bombardment phase as players use the Artillery Assault Fire tasking to soften up the enemy lines, followed by the skirmish phase using the Skirmishers tasking and finally the moment of decision phase using the Assault order, Glory and Forwards taskings.
The next aspect of command and control is the Brigade Command Roll. In the command phase and after ADC postings, the players roll one die for each brigade to ascertain if the brigade is currently obeying orders or is hesitant. When a brigade is obeying orders the player may manoeuver the brigade as he sees fit, in accordance with his battle plan. When a brigade fails its individual command roll the brigadier and his brigade is considered Hesitant. The brigadier and his officers are perhaps intimidated or uncertain of events, slow to react to orders or simply reluctant to obey orders! The brigade is then marked with a hesitant marker. Hesitant is only a temporary status but imposes restrictions upon movement, with no charges or forward movement permitted, while artillery firing is restricted to effective range or less. All hesitant markers are removed at the end of each turn. This is a simple game mechanism to introduce friction into the command process - so players will not always be able to do exactly as they please with all their brigades every turn. Brigades can have worse command situations if they have suffered broken or routed units in the turn, but more on this later.
At the start of the game each C-in-C deploys his division. And each brigade can have of two initial deployments:- either Committed or In Reserve. Committed means it's assigned a position in your divisional line of battle, and is in the front line and ready to do battle.  In Reserve is exactly that, the brigade is held back awaiting orders before joining battle.
Picton deployed his corps using a typical Wellingtonian disposition. The Portuguese were deployed on the heights on the right, charged with holding this ground. In the centre he massed his two seasoned British brigades under Maitland and Kempt, with Kempt's forward lines garrisoning the village of Belho. Maitland's men were, of course held back on the rear of a low rise with only the RA battery and the skirmish line on the forward slope. Over on the left the Sontag's polyglot brigade of British, Brunswickers and Chasseurs de Britanniques held the line, anchoring the extreme left flank on the rough heights. Being desperately short of men Picton's sole reserve were the 16th Light Dragoons and 1st KGL Hussars under Vivian.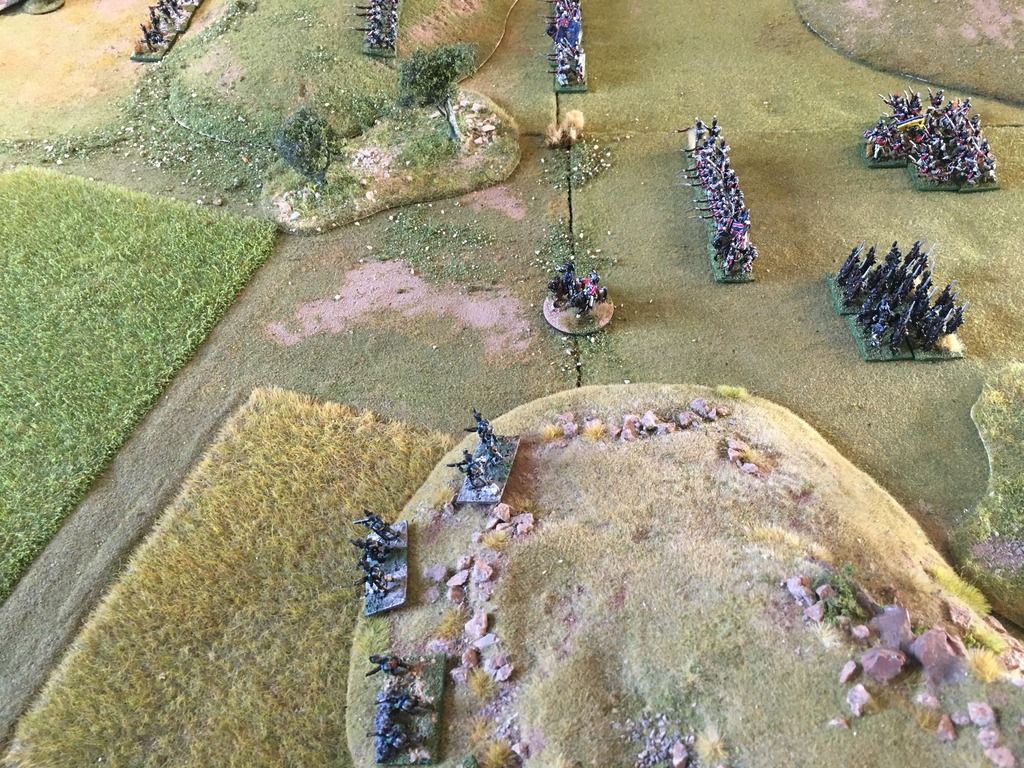 Loison had a typical French Peninsular army, three reasonable infantry brigades (graded as Line) supported by below par cavalry and a brigade of reluctant allies, termed the ″Confederation″ brigade and graded as Recruits. (There are four troop grades in the basic game; Elite, Veteran, Line and Recruit.) As such he deployed the ″Confederation″ brigade on his far left opposing the Portuguese, while he massed his two main French brigades, under Marchand and Mermet, in the centre. The small Dragoon brigade held the far right; while he held his smaller infantry and better cavalry brigade in reserve in a central position to the rear. As the battle developed he would commit these reserves at the crucial time and place and hopefully win a glorious victory for the Emperor.
The Game Turn: Each turn is divided into five separate phases; these are Command & Initiative, Charges, Movement, Firing and finally Melee. The Command and Initiative phase along with the Melee phase are simultaneous while the others are each taken alternatively. In this way players are continually involved throughout the game turn without having to wait while one player completes all his turns actions. So Turn 1 begins, both players make their ADC availability rolls, on a roll of 3 to 6  ADCs are available, on a roll of 1 or 2 they are not available. Thus players will see fluctuating command ability from turn to turn.

Opening Moves. Turns 1 - 4  saw both C-in-Cs gain three ADCs each per turn. Now both commanders have their respective command choices to make, this is especially pertinent to the attacker. Does Loison post all his ADCs on brigade attachments to ensure his main brigades move off on time, (this also has the advantage that an army with fewer hesitant or faltering brigades is more likely to win the initiative) or use his valuable ADCs for more specific taskings such as artillery assault, skirmishers or placing his infantry brigades on assault orders? In Turns 1 and 2 Loison opted for brigade attachments which were successful and saw his two main infantry brigades lining up to attack Maitland and Kempt in the centre, with the French deploying the 2/13th Léger into skirmish order to back upon their skirmish line in an early effort to overpower the British skirmish line. While Picton used his ADCs to order the Royal Artillery battery to enhance its fire rate (the Artillery Assault Fire ADC Tasking) against the French columns as they closed upon the low ridge shielding Maitland's lines. Artillery Assault Fire permits a standard 2D6 fire with modifiers plus two extra casualty dice per battery, (casualty dice very simply inflict casualties on a score of 4, 5 or 6 per die.). However the down side to assault fire is that any fire that results in a fatigue casualty (a poor fire result of 3 or less from our 2D6 roll) is doubled if using assault fire. Players will need to be careful of indiscriminate artillery fire or they could well wear out their artillery rather quickly!)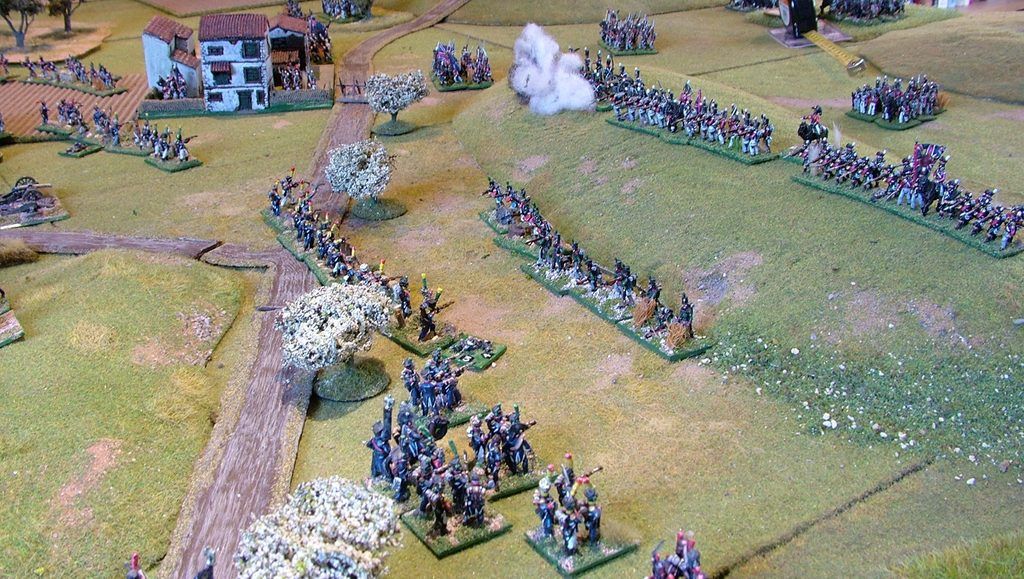 Turn 5 saw a development, in a moment of tactical inspiration the French command had all five ADCs at his dispose and saw an opportunity to turn Maitland's line by hurling Mermet's infantry brigade, lead by the 30th regiment, quickly forwards (using the Forwards ADC Tasking to increase a brigade move, or this can also be seen as simply surprising your opponent!) to strike Maitland's line on the flank. This move was initially successful, placing the 30th in a position to charge the lone British battalion that had been moving up in column. In the centre Loison used the remaining two ADCs to order Marchand's brigade to assault the village of Belho.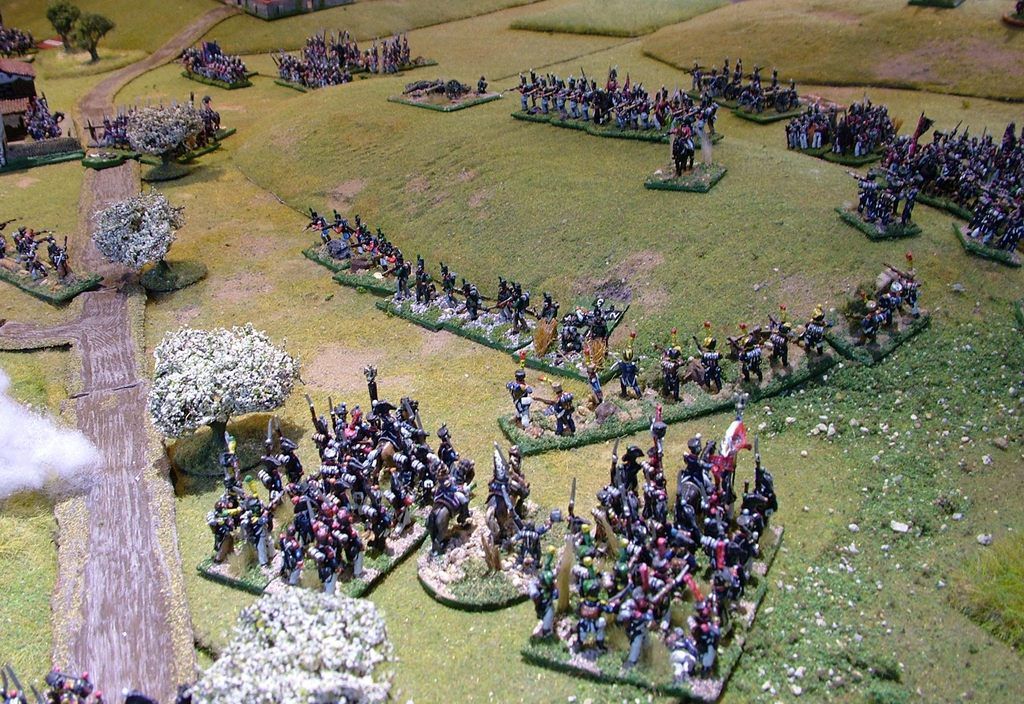 Turn 6. ADC availability rolls see another three ADCs apiece for Picton and Loison. Loison immediately sends all three one ADCs to Mermet's brigade two ADCs used to order the brigade onto Assault and the third as a brigade attachment to ensure his orders are carried out. This meant that the Confederation brigade had received no ADCs and rather predictably rolled yet another hesitant command roll result, but as Loison had no real confidence in this attack being successful, this did not perturb him. The ″Confederation″ brigade's advance was painfully slow as they were hindered not only by a lack of ADCs but also by uncertainty in brigade deployment. Did the brigadier keep his battalions in column to hold the recruits steady (recruits deployed in line receive a morale negative modifier) or risk his unsteady troops in line but take less casualties as they neared the Portuguese battery?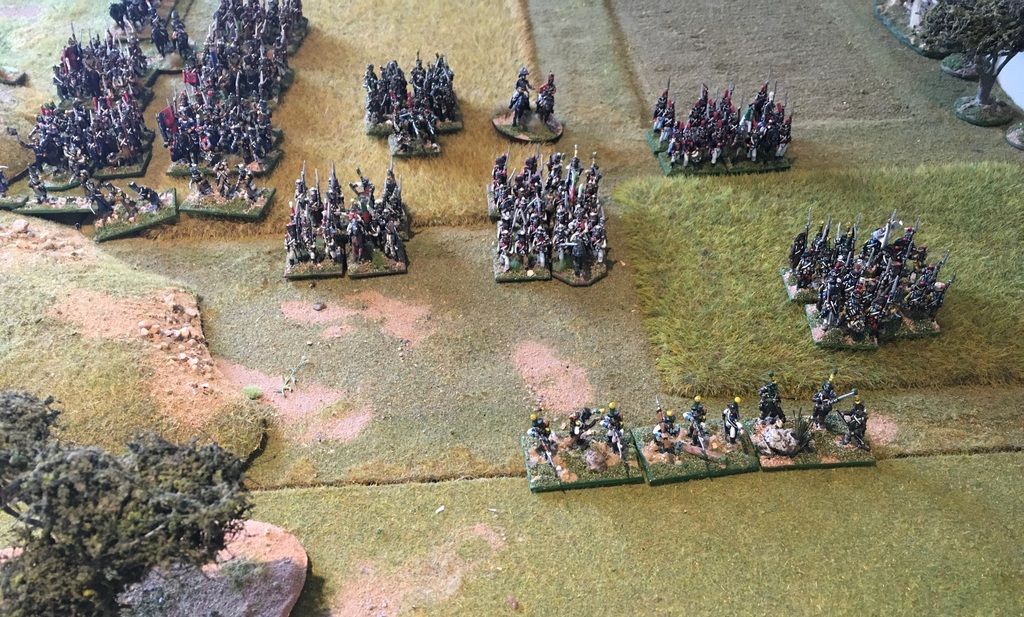 Picton, now aware of Mermet's threat to both Maitland and Kempt's men garrisoning Belho used his ADCs as brigade attachments across the line, he doesn't want these brigades to be hesitance when under attack by French columns, and (battalions from hesitant brigades suffer a minor negative modifier when charged to reflect the temporary command confusion impacting upon the parent brigade). Unfortunately for Picton the ill prepared British battalion, being deployed in column, fires poorly and his unable to impact upon the French charge. Both sides now roll for the charge combat. The French lead battalions score 8, no modifiers such as troop grading, formation or casualties apply, so their total is 8. The British roll 5 and again with no modifiers applying, (both the British and 30th are graded as Line morale) have lost the charge combat on a difference of three between the scores - a Retreat result. The British immediately conduct their retreat being driven back in disorder and losing casualties as they do so. (Other charge results include routing your opponent thus permitting follow on charges, while unsuccessful charges can halt unformed for a derisory firefight, retire or retreat.)  In the same turn our embolden French commander orders to Marchand are successful and he sends two columns to assault the village of Belho held by one of Kempt small battalions. During the bitter melee both sides threw in extra battalions which saw possession of the village see-saw for the next two turns until Kempt finally acknowledged that being draw into such a fight was rapidly reducing his manpower and withdrew to reorganize. This left an equally battered Marchand holding Belho, but unable to mount any further effective action.  Casualties in General d'Armee reflect battlefield attrition and include loss of morale, fatigue and shock as well as dead and wounded, especially officers and NCOs. As the unit progresses to each new casualty level (there are four in the game with), it will suffer negative modifiers in charges, firing and morale. The game system concentrates less on numbers of men and more on the quality or morale of units; hence a small but fresh battalion is likely to overcome a large battalion that is battle worn and fatigued. In addition there's no figure counting or figure removal, the rules are simply based on the unit and its current casualty level
Turn 7. Picton gains four ADCs and Loison just two! The initiative passes to Picton, who can now clearly see that the French were refusing on his left, while pushing up in the centre and on the right, and as such he now ordered Vivian's superb light cavalry, (classed as Battle Cavalry in the rules, which ignores the minor differences between the cavalry of the line, be they dragoons, hussars or light dragoons and concentrates more on the training and condition of this cavalry. Battle Cavalry are well trained, riding good, superior mounts; while campaign cavalry, (the next class down) are considered to have less training and certainly poorer mounts or simply represents those units that have been on scouting duties for the last few weeks, thus tired and low on remounts. Other classes are heavy cavalry reserved for the likes of the guard heavies and cuirassiers and of course Cossacks at the other end of the scale.) Vivian's brigade is currently in reserve so requires one ADC to be released, but the advantage of reserve is that issuing either a Forwards order or an Assault order cost the C-in-C less ADCs than normal (just one as opposed to the normal two) and of course, the reserve can be committed anywhere in the divisional battle line, as directed by the C-in-C. Thus Vivian's cavalry successfully move out of reserve and advance with all haste (using a Forwards ADC tasking as well) to the left flank, where Picton expects his cavalry to overpower the French cavalry brigade and then swing round to attack the French line in the flank. If all goes well he will further instruct Sontag's brigade to support this turning manoeuvre. 

Having the initiative also permits Maitland to counter-attack the now unformed 30th regiment with a swift bayonet charge by the 94th Foot to the French flank. The 30th cannot withstand this and both battalions are thrown back down the slope in disorder causing Mermet's brigade to falter. (Under the rules any two retreats or one rout from brigaded units means the brigade will falter and in the following turns command roll with dictate the brigade reaction; either obey orders, rally or potentially retire or break up completely!) Players will also note that there is no morale phase, occasionally units will be required to test morale as a result of telling fire but this is carried out immediately in the current phase. All other morale is catered for  through the command rolls in the command phase.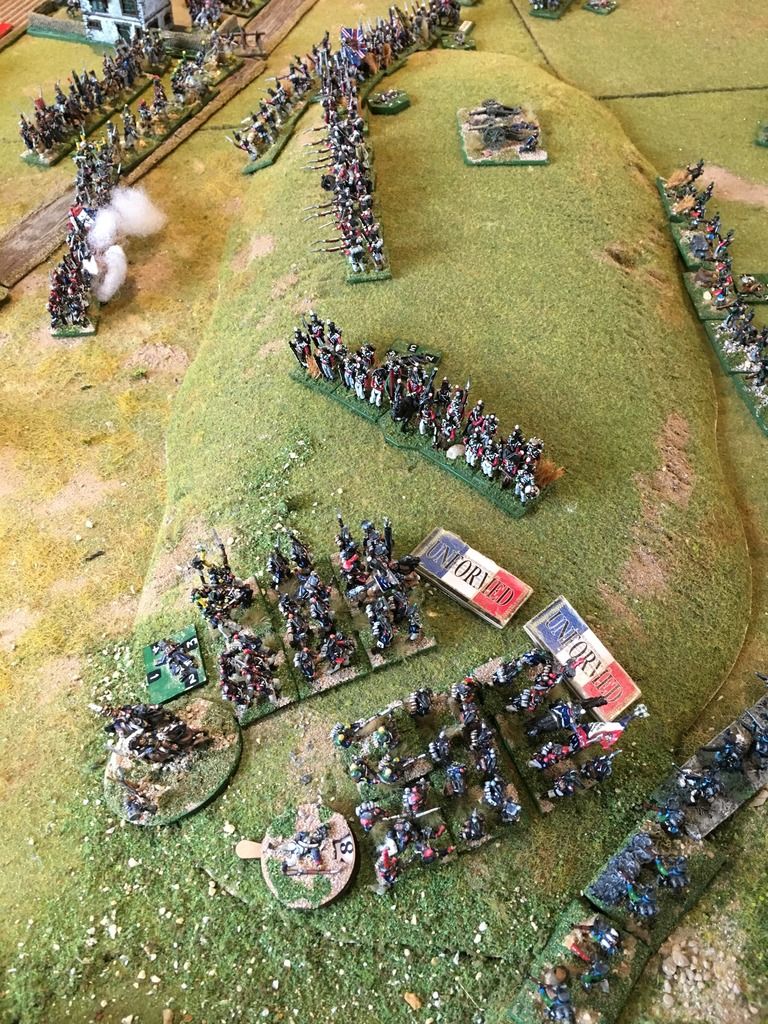 Turn 8. Loison has a better command situation with four ADCs while Picton has just three. Loison must lose one ADC immediately to shore up the Divisional Morale. (To represent command friction, each faltering brigades drains one ADC from the C-in-C, thus the worse your situation, the harder to exercise control.) Now he has a distinct command choice with his two remaining ADCs, either release his reserve cavalry brigade with orders to assault the British centre or shore up Mermet's and Ornano the dragoon commander with brigade attachments? Loison opts for the reserve cavalry and launches his lancers and chasseurs forward in a desperate attempt to break that British line and gain time for his remaining brigades to recover. Picton opts to post two ADCs to Vivian, (one as brigade attachment to ensure they charge home this turn and one to Vivian himself ordering him to lead from the front under a Glory tasking, which provides an edge in any forthcoming melee).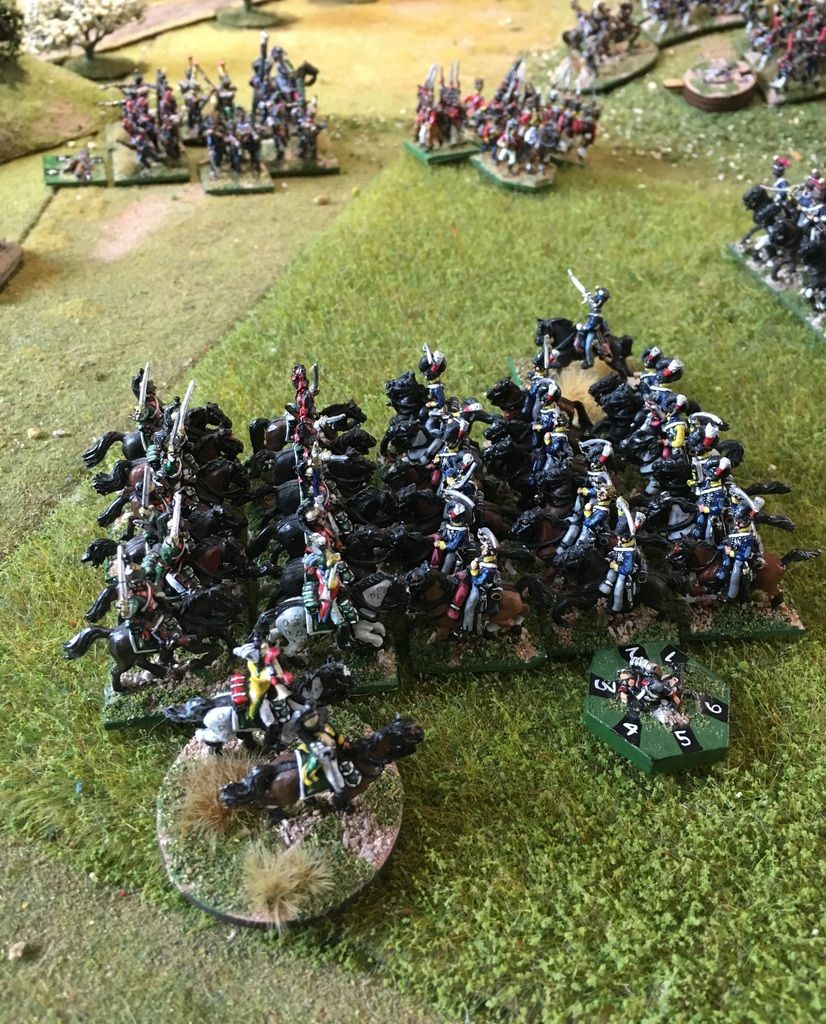 Turn 9. The 16th Light dragoons supported by the KGL Hussars charge the French dragoon brigade. Both sides one roll their 2D6 charge dice hoping for high scores. (There are all the usual modifiers in the charge combat procedure such as troop grading, if unformed, casualty state, etc.) Vivian rolls 5 and 3 - scoring 8, gaining a +1 modifier has the 16th LD are graded as veterans and another +1 as Vivian is attached bringing his score to an impressive 10. He has no other modifiers so stays there. The French dragoons roll 5 and 2, modified by -1 as they are campaign cavalry vs. battle cavalry, bringing their score to 6. Both charging units have supports (any fellow units within close distance and not opposed by other enemy units can support to the flank or rear. A supporting unit provides a D6 reroll - but the downside is you must accept the final score! If the idea that a support could be a disadvantage disconcerts you, consider the possibility of supports blundering into the lead unit or mistakenly firing at the lead charge unit!). The attacker chooses first, but Vivian declines, so Ornano clearly chooses to reroll his 2 and now scores a 3 bringing his final score up to 7. A difference of 3 in the charge results see the French dragoons unformed, (this can be seen as pulling up or faltering before contact), while Vivian's cavalry charge home with élan. (Meleeing with élan represents maintaining good order and dominating the opponent, or simply realising the opponent is not up for combat and closing in to take advantage of the enemy's discomfort!). In the melee phase the French dragoons are over turned by Vivian's veteran cavalrymen, being comprehensively routed, while the supporting dragoons fall back with them.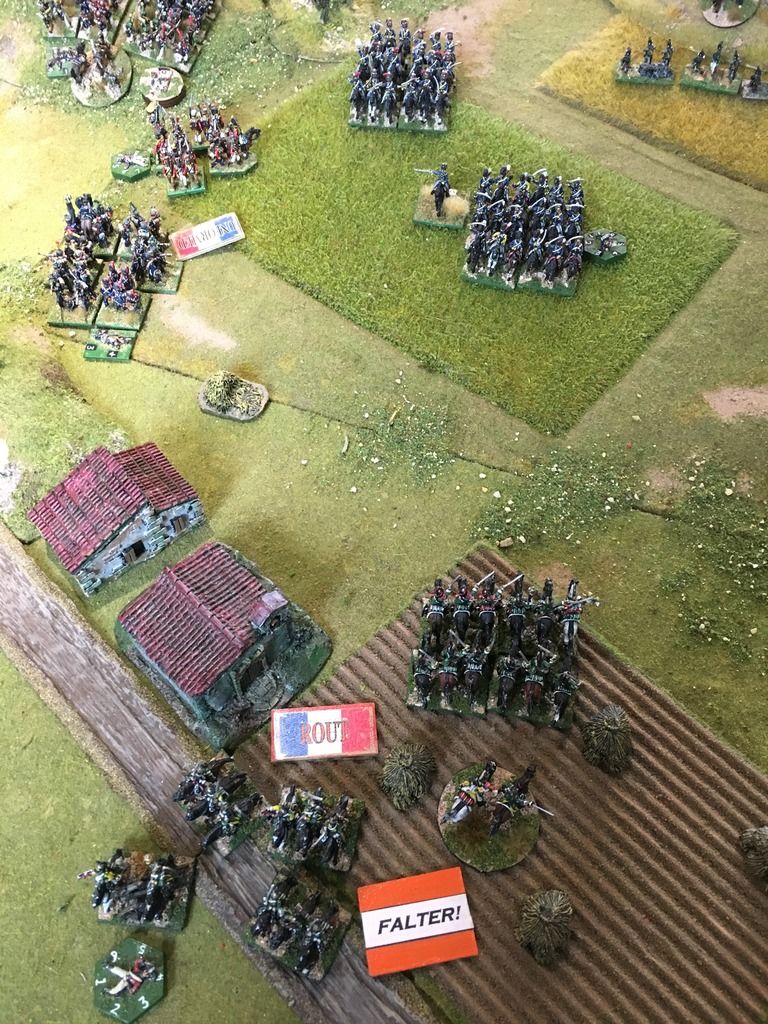 Turn 10. Seeing the battle reach its tipping point the French commander, having released his reserve cavalry brigade under Pajol, consisting of a small chasseur regiment and the Vistula Lancers, (veterans but also campaign cavalry), sees them charge directly at the British hoping to catch the redcoats in line. The 94th Foot see the cavalry coming from a distance and immediately attempt to form square at speed. (If infantry have the time they may attempt to from square by passing as Discipline Test, with a negative modifier, failure could see the unit lose order or even break), fortunately for the 94th Foot they form square in time. The Polish lancers, supported by the chasseurs cannot break the square and are driven off , thus they fall back to regroup.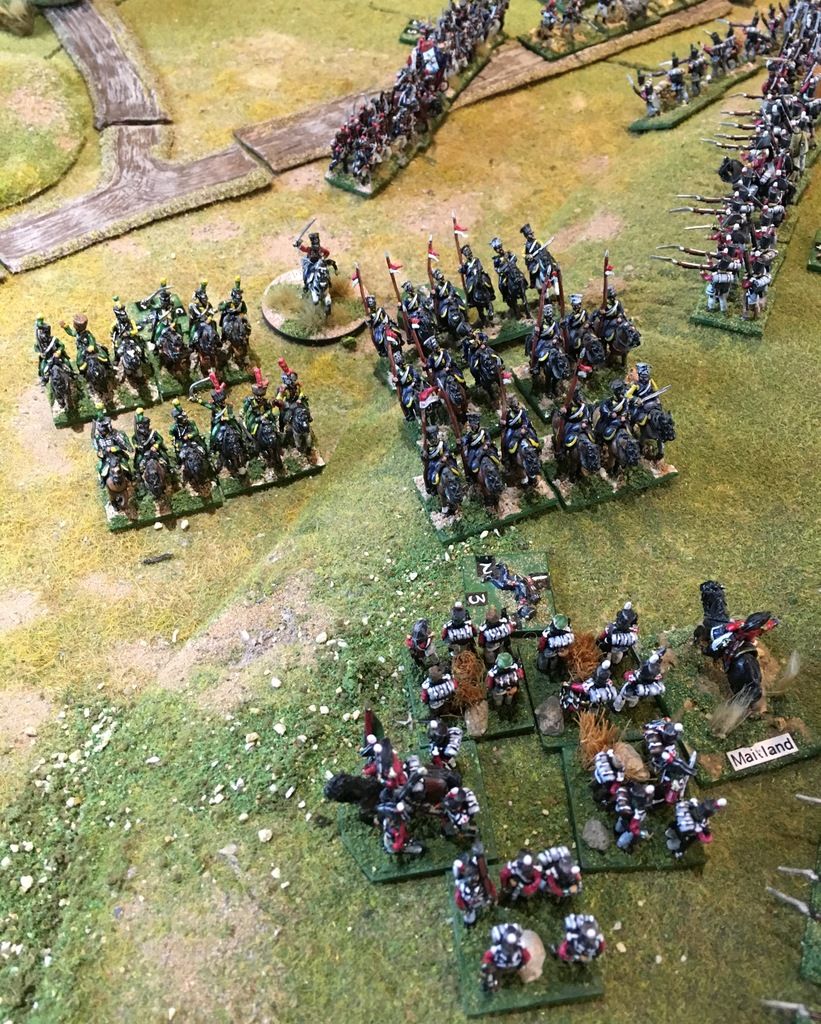 Turns 11-12. In his final command act the French commander releases his infantry reserve to strike at the weak section of the British line in-between the Portuguese brigade, (facing off against the Confederation brigade and Kempt's battered battalions. However this is now too late, with Vivian's victorious cavalry having reformed and with Mermet's brigade retiring after failing its command roll Loison's right flank is now completely exposed, meaning the chance of breaking through to Fuentes has now gone. The game is over. 

If you have any questions - just ask!
DB

Last Edited By: DCRBrown Jan 20 17 4:29 PM. Edited 1 time